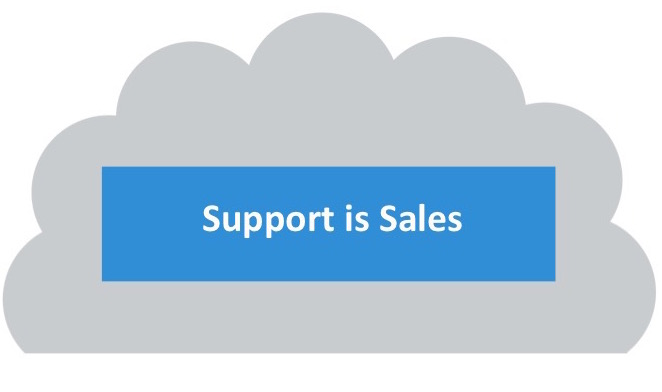 SaaS business models often don't generate profit from a customer until at least year two, or further into the lifecycle. The high cost of acquisition means that every customer that defects before renewing for year two, is not only lost revenue (how most startups consider them), but also lost investment. SaaS startups are often underfunded and don't have much runway, so maximizing returns from renewals is critical, which is difficult.
Here is a simplified breakdown of the problem:
Expensive cost per acquisition – entering a market, sometimes even creating a market can be costly. Converting people into buyers for a product or organization they have never heard of before takes resources. Acquiring the customer at an investment of $100, for a 1st year return of $60 means defections are costly.
MVP's and Buggy products – getting to market fast is critical and there are going to be bugs. This leads to churn.
High churn rates – Things that reduce churn, like extensive QA, training materials and other grown-up processes, consume a lot of resources and startups often can't afford them.
Support is sales
For the reasons above, what is sometimes referred to as "Customer Success"; support, training, retention (and upselling to existing customers) is a more profitable sales exercise than acquiring new customers. If you have paying customers, here are some questions to ask yourself:
Are we using a dedicated tool to work and track support tickets (more on that here)?
Is there a formal process for onboarding and training new customers?
Can the customer access support resources 24/7 (especially important if you sell outside your timezone)?
Does the leadership team review the support tickets and stats every month?
Build a culture of support
Renewals don't start 365 days after the sale, you need to warm the customer months in advance. That means providing excellent support. A culture of customer success and support is not just about noticing when something breaks. It is about providing training, building power users, finding internal champions and thereby creating default growth.
By default growth, I mean the kind of growth that happens when a product is so ingrained in the processes of an organization that they automatically buy licenses for new employees. Salesforce a great example; when a new sales person joins an organization that uses Salesforce (or another CRM), they buy a new Salesforce license. No extra work on Salesforce's end to generate that default growth revenue. This is really the promised land for startups.
Bad support stalls big deals
Even without default growth, in a SaaS model, ideally, a customer will upgrade to the "Enterprise" package at renewal time. Except, if they aren't getting the support they need, they will draw out the renewal. If they are a big client, come renewal time, they know that they finally have the opportunity to make you listen and fix their problems. And that is if you are lucky, if you aren't, they simply defect.
How to make providing Support affordable
Providing great support can seem expensive, but it doesn't have to be. In fact, if done right, it saves money by reducing the time and effort it takes to get a customer onboarded and cuts back on the amount of time the development team has to work on tickets.
Use a Dedicated Support Platform like Desk or Zendesk: These are both cheap tools and both have similar feature sets. They ensure you don't end up with forgotten tickets, you have full info on the client you are helping at your fingertips and you know what previous cases they have had with you. They also provide easy to manage knowledge bases for customers to access 24/7 and they allow you to track how your support efforts are going overall.
Reduce friction with Click to Chat: Olark is very cheap and simple to use. Install it all over your site and allow customers to get help without being put on hold. When customers have to phone you, it adds to the frustration of their experience. As a bonus, Olark integrates and auto-creates tickets in platforms like Desk.com.
Use Support to build a better product
A big part of a startup's ability to innovate and adapt quickly is a willingness to measure and make decisions based on data instead of gut feelings or entrenched tradition. Using a support platform is an often overlooked method of doing this. Products like Desk and Zendesk allow cases to be tagged as they are worked and provide the ability to slice and dice data easily. By ensuring all cases are tagged and reviewing reports regularly, a startup can quickly gain knowledge on what macro problems consume the most support resources and whether they are actually bugs, UI issues or even training problems.
As a real-world example, after implementing Desk at one startup I worked at, it became apparent that a large portion of our tickets were about logins. After we dug further, it became clear these all stemmed from one issue; it wasn't apparent to users what to click after inputting their credentials. Such a simple thing, but it immediately wiped out a portion of our weekly tickets, freed up developer time and (greatly) improved the user experience.
Making the most out of this data means more than just crafting an automated weekly report. The leadership and development team need to sit in on monthly meetings to discuss the data and then prioritize fixes for the most common issues impacting customers. This extends beyond just what tickets are filed, these platforms also allow you to see what people searched for in the knowledge base, which provides clues to where the greatest friction in your product lies.
Wrap Up
In the end, don't just use your Support platform to track how fast tickets are closed. Extend the value by analyzing what UI/UX weaknesses and missing features cause the most tickets. Review what bugs are most common and what areas may need dedicated training materials. The product will never be perfect, but this is a much more efficient way of determining how to use your limited resources to reduce what is causing customer's pain, as opposed to what you think is causing pain. Providing top tier support to ensure customer success is what reduces churn and increases revenue.
What are you doing to foster a culture of support and customer success at your startup? Drop me a line or let me know in the comments below.