Salesforce CMS or Content Management System provides the means to create, manage and deliver content from a central location. What makes it powerful is its capacity to deliver that content to multiple channels. This means CMS content can be used in multiple Experience Cloud sites (communities), in Marketing Cloud, Heroku, in Lightning Experience apps and in Commerce Cloud.
Before we go into the details of how to set up and start using Salesforce CMS, we will first cover some basic terminology we will be using throughout this blog post.
Digital Experiences app: This is the central location where you can access and create workspaces and sites in Salesforce.
CMS Workspaces: This is a container for content. Create, organize and share your content with multiple channels using workspaces. Curators are assigned roles that control what content they see and what they can do with that content. You can also choose the languages for your translated content.
CMS Channels: The content in a CMS Workspace can be associated with one or more channels such as Lightning apps, Commerce Cloud, Experience Cloud etc.
Content: The content in a workspace is shared with all channels from that workspace. Standard CMS content types are Document, Image, and News types. Custom types can also be defined.
How do you enable Salesforce CMS?
The first step is to enable the Digital Experience app. On a profile or permission set, go to Assigned Apps and enable the "Digital Experiences (standard__SalesforceCMS)" app.
The second step is to enable the tabs necessary for working with the app. For a profile or permission set, under Object Settings, set the Tab Settings to Default On for the following objects: Digital Experiences Home, CMS Channels, CMS Workspaces and All Sites.
Different permissions may be granted to users via permission sets depending on what features they will need to use. For more details, please read the following official help page.
This is what the Digital Experiences app looks like: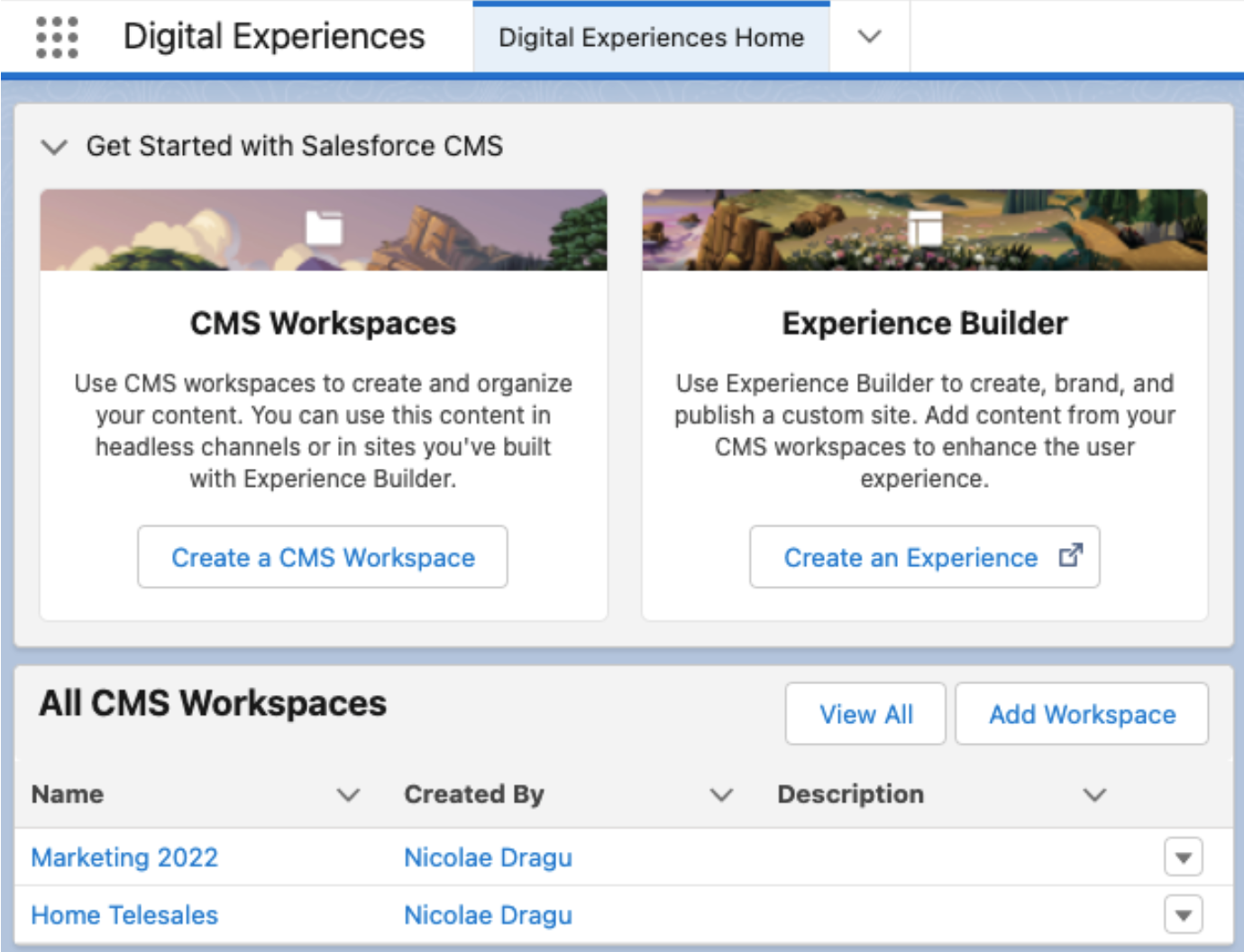 More about Content Types
Salesforce CMS comes with three content types out of the box:
Document: Any file type up to 2GB
Image: BMP, GIF, PNG, JPG, or JPEG file types up to 25MB
News: Rich text and image support
Note that for Custom Content types, the CMS Content Type Manager AppExchange app can be used to create new custom content types.
How do I add CMS content to an Experience Site?
Set up a CMS Workspace

Add channels
Add contributors and assign roles
Select languages for your translated content

Add content to your CMS Workspace

Add your content using the standard content types (Image, Document, News) or custom content types.
Organize content using folders
Publish your content to make it available to use by your channels

 Add content to your site

In Experience Builder, use one of the following standard components to display your content: CMS Single Item, CMS Collection, CMS Connect (HTML), CMS Connect (JSON).
Content can also be updated even if it is being actively used by your Experience Site. A new version of that content can be saved as a Draft. If we look at the image below, version 4 is already published while version 5 is currently in draft status:

This means the published content remains intact while working on updating your content. When ready, the new content version can be published and will automatically be visible in your site without having to republish the entire site page on which your CMS content is placed.
Enabling Search for Salesforce CMS Content
Another benefit of using Salesforce CMS is the ability to enable content search within CMS channels.
In Experience Cloud sites for example, search results are limited to records of objects that are made searchable in the site. This means that entire blocks of text that are not part of an object record do not appear in search results. This limitation can be overcome by enabling search for CMS content. Additionally, each content type can have search enabled or disabled, meaning you could enable search for the News content type, but not for the Image or Document types.
For detailed information on enabling this feature, please refer to the official help guide
Licensing
There are two available CMS editions:
CMS Starter: Available in Salesforce Enterprise Edition and above at no additional costs.>
Salesforce CMS: Unlimited content management for a monthly license fee.
For more information, please read the official Salesforce CMS Pricing page.
Summary
Salesforce CMS is a simple, yet powerful content management system that allows content creators to manage and deliver content across multiple channels. The experience of starting to use Salesforce CMS is fast and intuitive. It enables team collaboration and empowers curators to deliver content without having to rely on a dedicated team of developers to build custom functionality.
Want to know more about how Salesforce CMS could work within your org? Or just want to chat about Salesforce? Get in touch! We're always happy to hear from you.