Interested in learning more about CloudKettle and the work we do?
Reach out today! Use the form on the right, email us at hello@cloudkettle.com or give us a call at +1 (800) 878-4756.
If you're looking for more information about joining our team, we recommend you check out our Careers page to see our open positions or get in touch with questions.
"CloudKettle is a trusted partner that goes above and beyond in their work."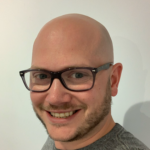 Robert Josey
Sr. Manager, Cloud - Salesforce
Bell
Contact Us
We're happy to answer all your questions. Simply fill out the form below and we will reach out soon.
Thank you for Contacting Us.
We will be in touch shortly. Usually, we are able to follow up on inquiries on the same business day.
eBook
A CRO's Guide to Revenue and Reporting
In this ebook, we cover why Chief Revenue Officer is the hottest title in SaaS […]
Get the guide now
Guide
How to Eliminate Salesforce Maintenance Headaches
In this guide we discuss how taking a proactive approach to Salesforce management can eliminate […]
Download Now
Sign up for the latest tips & news from CloudKettle
Thank you for subscribing.