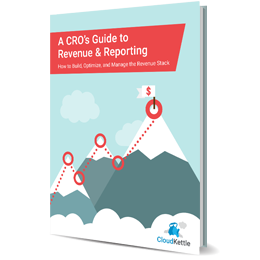 eBook
A CRO's Guide to Revenue and Reporting
In this ebook, we cover why Chief Revenue Officer is the hottest title in SaaS right now, and how its rise is connected to the Revenue Stack.
B2B SaaS companies face high customer acquisition costs; making renewals, upselling, and decreasing churn essential. To enable better decisions regarding these topics, someone needs to have a bird's eye view of all revenue generating activities within the company. Inside we'll cover topics directly linked to activities like:
How to link the outbound world of Salesforce to web activity for more accurate ROI of marketing tactics
How to measure campaign attribution using Salesforce Campaigns
Why B2B remarketing is key to sales velocity
How to use marketing automation to warm a customer in advance of their renewal
The Chief Revenue Officer has become more popular, in part, because companies have realized that siloing Sales, Marketing, and Customer Success doesn't work for subscription-based revenue models. Understanding holistically how your organization generates revenue is necessary to optimize and reinvest correctly.
Get the CRO's Guide to Revenue and Reporting eBook now! 
eBook
Data Architecture Principles for Salesforce Marketing Cloud
Proper data architecture helps ensure that your data is secure, accessible, available, and can be […]
Download Now
eBook
The Revenue Operations Playbook 2020
In this eBook, we sit down with some of the brightest minds in Marketing, Sales, […]
Download Now
Sign up for the latest tips & news from CloudKettle
Thank you for subscribing.