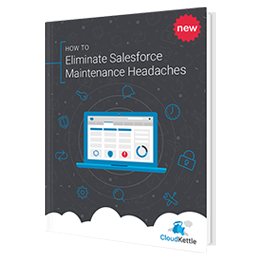 Guide
How to Eliminate Salesforce Maintenance Headaches
In this guide we discuss how taking a proactive approach to Salesforce management can eliminate Salesforce maintenance headaches.
Inside we'll talk about topics such as:
The importance of having a dedicated Salesforce resource internally
How to plan for upcoming Salesforce success
3 things every organization should be monitoring in Salesforce
We hope you find this guide helpful. If you have any questions, reach out today.
Get the How to Eliminate Salesforce Maintenance Headaches Guide now! 
Guide
Salesforce DevOps Center – Getting Started Guide
The Salesforce DevOps Center is a new offering from Salesforce that makes it easier for Devs and Admins to build, test, and deploy solutions across Salesforce. Follow along with the steps to implement DevOps Center for yourself.
Download The Guide
Guide
Saleforce Marketing Cloud Acronym Guide
Salesforce is full of acronyms. They're very useful, but can also be very confusing – […]
Download The Guide
Sign up for the latest tips & news from CloudKettle
Thank you for subscribing.