Last week CloudKettle celebrated an exciting win as our President Greg Poirier was named EY Entrepreneur of the Year in the Professional Services category. We wanted to take this opportunity to thank everyone who's helped CloudKettle become the company it is today.
Below is an excerpt from Greg's acceptance speech:
I'm really grateful for this win – honestly, as I look out at the companies here tonight there are leaders here who are:
Helping people walk.

Helping employ people in rural areas.

Moving here from another country, making a new life and starting a business.
In contrast, I'm just a regular guy, who had the advantages of a really loving family, a great education and some big headstarts in life.
I'm really thankful for all the help I've gotten along the way. I'd like to thank:
My wife Erin who years ago was pregnant, with our second child, when I came home and said I'm going to leave my job and start a business. I explained the risks and she smiled, had faith and knew somehow we were up to the challenge.

To my kids who keep me excited, but miss me while I travel and work long hours.

To Jon, who I've worked with at three companies over the last decade. And to his wife Paula, who like Erin, has supported us patiently every time we went up to bat.

To Eilidh who took a job as employee number one when the office was the damp, old basement of my house.

To Prag who left a huge company to go work at CloudKettle as employee number two based on some of my fast talking and a bit of a dream.

To Dan, Mounica, Sab, Greg, Kyle, Ryan, Mitch, Andre and Lisa who have for some reason agreed to be part of this crazy ride.

To my parents and my whole family of civil servants, who didn't understand my entrepreneurial streak, but spotted something odd in me as a child and always found a way to nurture it.

To the teachers who realized I was bored, odd and stubborn and still figured out a way to get me interested.

To great mentors like Gina Brown, Dean Leland, Sue Oland, who put up with a lot of ego from a cocky young man and set to work ironing out the wrinkles.

To great partners like Outshine who've seen our vision and helped us grow the company here in Halifax.

And finally, thanks to the local clients like Chris and Mike who took a chance on us in the early days.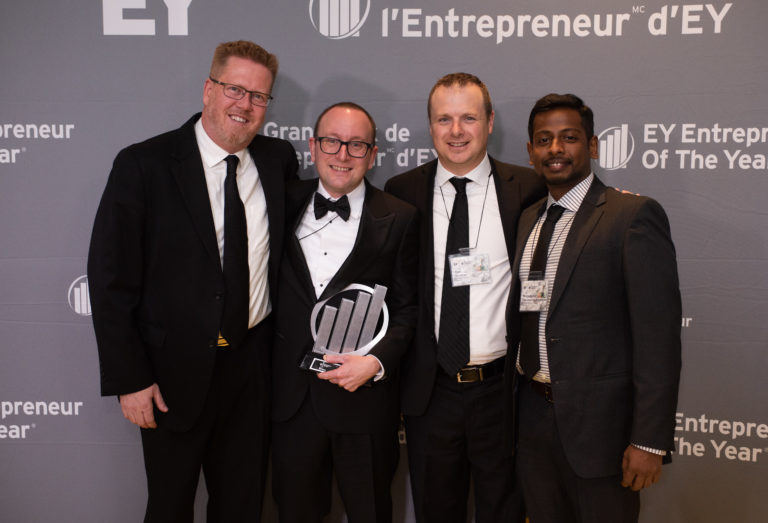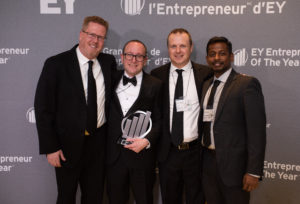 Thank you to everyone who took the time to congratulate Greg on his win! Congratulations to all the other winners and nominees, it was an honor to be amongst such great company. Lastly, thank you to EY for putting together a wonderful celebration and believing in our vision for CloudKettle.