This post is for teams that use Salesforce and Quip, but want to learn how to leverage Quip's robust features for project documentation. In this blog, we cover some best practices for creating collaborative project documentation using Quip for Salesforce.
Why use Quip?
You might be wondering why your team should leverage Quip, so before we dive into best practices, let's look at what the platform has to offer.
Quip is a modern collaboration platform that helps teams work on projects together so they can complete work faster. Living document files, in-line commenting, and real-time chat mean everyone has total project transparency and the most up-to-date information at all times.
While Quip can be used as a standalone platform, it also allows users to integrate with applications like Salesforce and JIRA. Plus, Quip comes with customizable apps that can be added to documents, like a countdown timer and project tracker. Best of all, users can seamlessly switch between desktop and mobile.
Another reason teams love Quip is both Quip and Salesforce are also highly secure platforms. Security is a priority for every organization and meeting security requirements can often be a bottleneck when selecting a project documentation solution. By integrating Quip with Salesforce, teams can trust that all their data and documentation are in one secure location. 
Ready to take a deeper look at Quip for project documentation? Let's get started.
Salesforce Architecture: Leveraging Quip for Project Documentation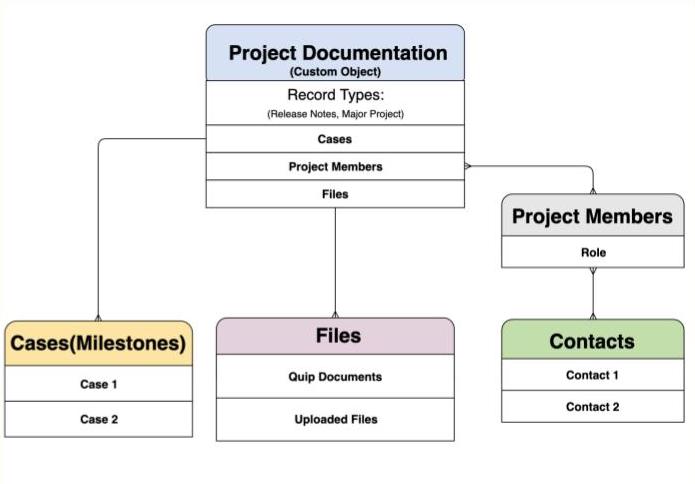 Once Quip has been integrated with Salesforce, a custom Project Documentation object will need to be created in order to leverage Quip for project documentation. Using the Project Documentation object we can tie Cases, Contacts, Quip Documents and Files in one easy location for visibility and reporting. The image above demonstrates what the architecture should look like in Salesforce when setting this up. Here's a more granular look at how to connect Cases, Files, and Project Members to the Project Documentation object: 
1) Project Documentation: 
Use Record Types to share project records immediately with the appropriate teams or Users.

Categorize your projects in Salesforce for easily accessible documentation.
2) Cases:
Relate Cases to projects in order to show the origin of requests and track end-to-end progress.
3) Files: 
The Salesforce Files Component allows you to keep all files and knowledge on the project in one place (including Quip files linked to the Salesforce record).

The Salesforce Files Component also makes it much easier to onboard team members to projects because all project information exists in one place and you no longer need to worry about lost files.
4) Project Members:
Attach contacts to Project Documentation records

Keep track of which users are working on which projects

Report on project status and provide insights through dashboards for senior leadership, project managers, etc.
Now that you have an idea of how to integrate Quip with Salesforce for project documentation, let's take a look at what documents you may find helpful.
What Documents Do You Need?
First, you'll want to decide which documents are relevant and necessary to include in your Org. 
Requirements Gathering
The requirements gathering process provides an opportunity for Orgs to define how the Salesforce platform will be utilized as well as lead to both a "big picture" view and a detailed view of the necessary documentation. Stakeholders from across the Org should contribute to this process. The good news is that Quip's functionality enables efficient and seamless collaboration to happen. 
Configuration Workbook (CWB)
If your Org uses multiple record types, profiles, objects and so on, then the Configuration Workbook will become an extraordinarily helpful tool for creating Change Sets and documenting key metadata information in your Salesforce Org. What's more, Quip's integration with Salesforce can be used to create a CWB using a custom object "Project Documentation".
Technical Design
Quip enables users to create robust technical design documentation that contains information like data, objects and fields, workflows, rules, and so forth. Additionally, calendars, project timelines, Live Apps, and in-line commenting can be included in a technical design document created with Quip.
Now that you know what documents you'll need for project documentation, let's take a look at a few of the Live Apps you can include in your Quip documents.
Adding Live Apps to Quip Documents
Your team can take project documentation to another level using Quip's Live Apps. Each app is flexible and customizable, allowing teams to leverage them uniquely for different projects. 
By embedding apps within project documents, all project insights are available in a single view, so everyone stays on the same page throughout the project duration. 
Countdown App
Maintain urgency and reinforce upcoming deadlines using the Countdown app. For example, once you embed the timer in your Quip document, it will keep everyone who is assigned to the project aware of important deadlines, such as a "go live" date.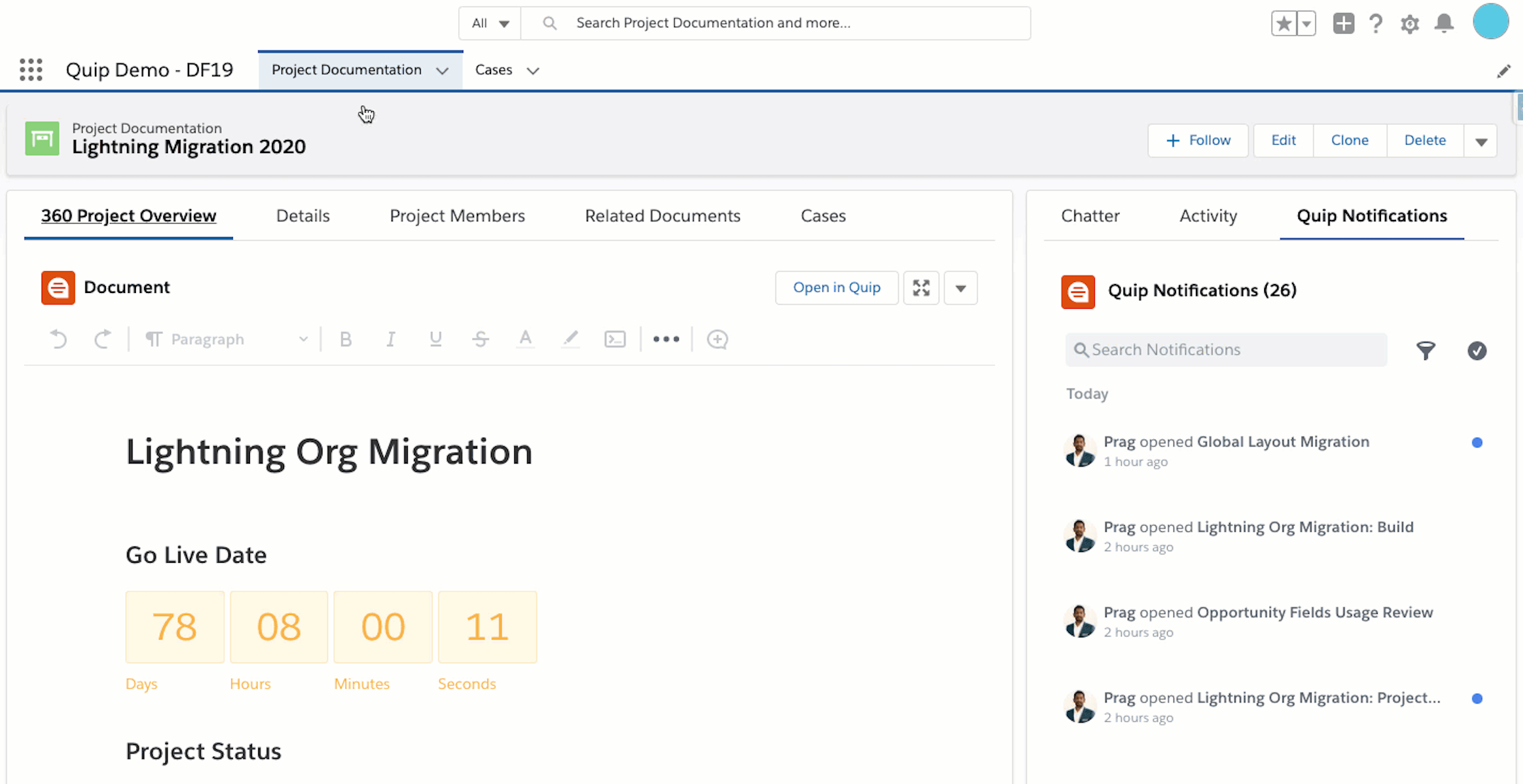 The Countdown App is a great way to keep your team moving toward important, shared goals.
Project Tracker App
With the Project Tracker app, project milestones can be assigned to one or many users. Then, you can track how the project is progressing in real-time with custom statuses and due dates for each milestone. 
All team members can view who has ownership over various aspects of the project, leading to faster turnarounds and better outcomes. Added benefits include less email and fewer meetings!
In-line Comments
Another useful tool in Quip is in-line commenting. Team members can highlight key points or areas of concern and ask questions, make suggestions, or add other commentary. The In-line Comments feature keeps a record of all conversations and provides an easily auditable history of comments and changes in one convenient document.

Now that you've had a chance to add some of our favorite Live Apps to your Quip project documentation, let's take a closer look at integrating Quip with Salesforce.
Using the Quip Document Lightning Component
Salesforce users can also create and work with fully functional Quip documents directly within Salesforce objects and records thanks to the Quip Document Lightning Component.
Simply embed a Quip document on a Lightning page layout and edit it there, too! This process was used to create the easily accessible and digestible project overview pictured below.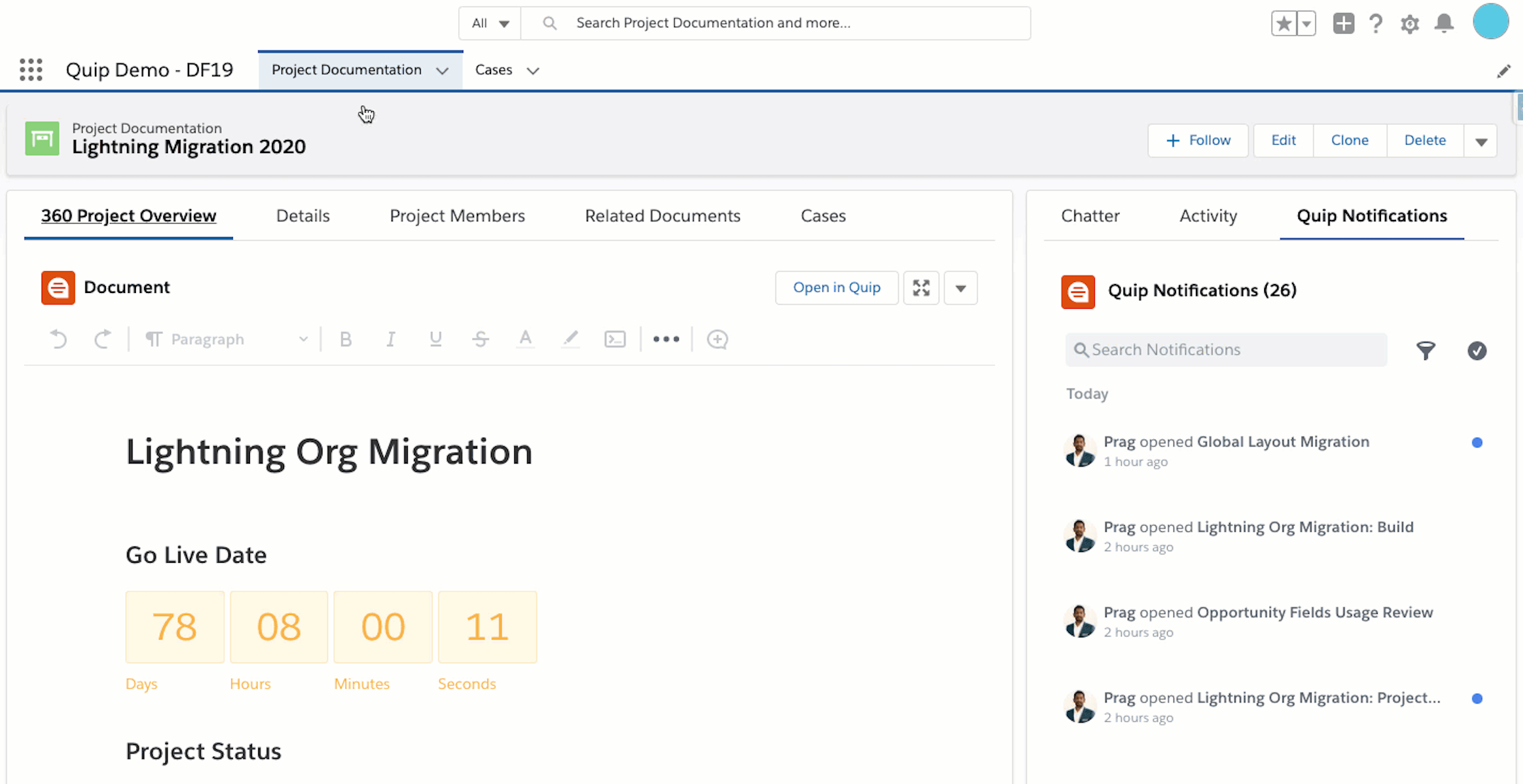 Using this component, you can specify that all Quip documents created from this component follow a specific template, saving you time with future project documentation.
Wrap Up
We hope you found these Quip for Salesforce best practices helpful. Centralizing your Quip project documentation in Salesforce comes with many benefits, including improved team collaboration, productivity, and a single source of truth. Plus, Quip's Live Apps provide everyone with real-time insights and help them meet important deadlines.
Have more questions about setting up and optimizing Quip project documentation in Salesforce? Reach out today. We love helping Admins make the most of Salesforce.