A solid product-market fit is key to a company's success. Some organizations, in particular, B2B SaaS companies, will hit product-market fit so quickly that they have the luxury of becoming a sales order taking organization. The phone rings, someone picks it up, and money pours onto the floor.
However, there are some downsides to finding product-market fit too early. In this post, we'll cover how product-market fit can be a double-edged sword, what red flags to look for, and how to course-correct if you find yourself cursed with the gift of a product that sells itself.
What is 'the Curse of Product-Market Fit' and Why Does it Matter?
In an interview with Shishir Mehrotra on the podcast Masters of Scale with Reid Hoffman, Mehrotra talks about this concept as relying on a heavy tailwind. When your company has that perfect product-market fit tailwind pushing it along, it's easy to overlook what's not working so well and ignore the things you should be doing to optimize your business for the future.
"When your company has that tailwind helping it along, it's easy to overlook what's not working so well."
In normal Sales and Marketing organizations, times can get tough. There are ups and downs, bad quarters; budgets can get tight. Sales teams learn to pursue leads and opportunities doggedly over months (even years) to close a big sale. They tolerate, even seek opportunities to bring in multiple stakeholders from across an organization to help close a large deal – every piece of pipeline matters.
Marketing gets laser-focused on measuring what is generating MQLs and revenue, and they tend to hold Sales accountable for squeezing every last drop of juice out of marketing outputs. Similarly, Marketing is under the magnifying glass each quarter for how they contributed to revenue-generating efforts. This is all tough, painstaking even, but it is healthy. Companies that cannot achieve this won't survive in the long run.
These lean times force the Sales and Marketing organizations into a maturity curve that lends itself to moving up-market into the enterprise.
Why is it so Hard to Transition to Enterprises Sales?
Enterprise sales generate much more revenue per sale, but the sales are more complex, take longer, and figuring out what generated and influenced the sale gets harder. The Marketing and Sales Operations machine has to be much tighter. Your organization might be able to sell to an enterprise client, but the easy sale will be a fraction of what a well-planned and executed sale could have been.
"..lean times force the Sales and Marketing organizations into a maturity curve that lends itself to moving up-market into the enterprise."
When organizations find product-market fit quickly and sales "just happen," it is common for companies to raise larger and larger rounds. The founders and investors believe the organization can easily transition from the quick turnaround deals into enterprise sales, only to find out they lack the necessary sales and marketing talent, processes, systems, and discipline to make that happen.
The end result? Often there are one or more failed attempts to launch proper enterprise Sales and Marketing organizations that are not only expensive but can also lead to layoffs, significant changes in leadership, and missing quarters. The curse of product-market fit is a great problem to have initially, but mid and long-term pitfalls are easy to recognize and can be avoided.
The Warning Signs of Riding a Product-Market Fit Wave
Are Marketing KPIs tied to revenue?
A sign your organization may be coasting is when the Marketing team's KPIs are focused on very nebulous things, like brand marketing and vanity metrics.
When a company is riding a tailwind, one of the things that often occurs is disproportionate spending on brand advertising, with no ability to demonstrate how that ties back to pipeline creation and sales closing. There isn't anything wrong with brand advertising. However, there needs to be an effort being made to move mid to upmarket and shift to annual contracts in the 5 and 6 figure range – generating a measurable pipeline needs to become a significant focus of Marketing's KPIs.
Companies that have a product that initially sells itself, often aren't measuring or investing in actual lead generation activities, prospect nurturing, or proactive selling.
Is your Sales team made up of "order takers?"
In other words, are they reactive rather than proactive? If your company is focused on hand-raisers (i.e., individuals who initiate a request to speak to Sales instead of Sales initiating the outreach), you're missing significant revenue opportunities. And moving upmarket, either with a higher-end product offering and/or enterprise-size deals, is going to be very difficult.
The organization won't have the culture to support this, and rebuilding that culture is very hard. What Sales rep will want to pour effort into a deal that is nine months off, even if it is six figures, when they could be just calling back "Contact Sales" leads that are coming in every morning.
Is Your Organization Ready for Enterprise sales? Answer These Questions to Find Out.
Start by taking a look at your funnel:
What percent of sales are from leads that filled out a Contact Sales form? Is it most of them (Y/N)?
Do your reps only focus on organizations that have established budget and are ready to buy in the next three months (Y/N)?

Great news, but most likely, a C-suite member of a Fortune 2000 isn't going to ask to speak to Sales, and CIOs typically plan larger enterprise purchases more than a few months in advance. In our experience working with publicly traded companies, technology investments for 2021 are researched and budgeted for in September of 2020.

Has a C-suite executive downloaded an ebook, had other members of their team also go to your site, and then no one followed up because they didn't reach out to speak to a Sales rep (Y/N)?
Big enterprise sales are the ones that move the revenue needle. When done well, they are also very sticky and less likely to churn (enterprises invest too much in careful research and deployment to churn easily).
If you answered yes to one or more of the questions above, your next question is probably: How do we fix it?
How to Course-Correct when Product-Market Fit Comes Too Easily
Although we've been focused on the problems that can arise from having a product that sells itself, a great product-market fit is still something to celebrate. So, let's look at some ways to avoid the problems outlined above, or how to course-correct.
Step one – determine if there is a problem, acknowledge the problem and socialize the problem (and be prepared to be unpopular). Your team of taxi drivers that got you to your destination every day reliably will not be enthusiastic about your newfound love of investing in mass transit.
1) Adopt a Revenue Attribution Model for High-Growth Companies
Next, your Marketing and Sales teams should begin to work on KPIs beyond "dollars in pipeline" or "number of hand-raisers." KPIs and sales targets should be broken out by SMB versus enterprise, by territory, and by product.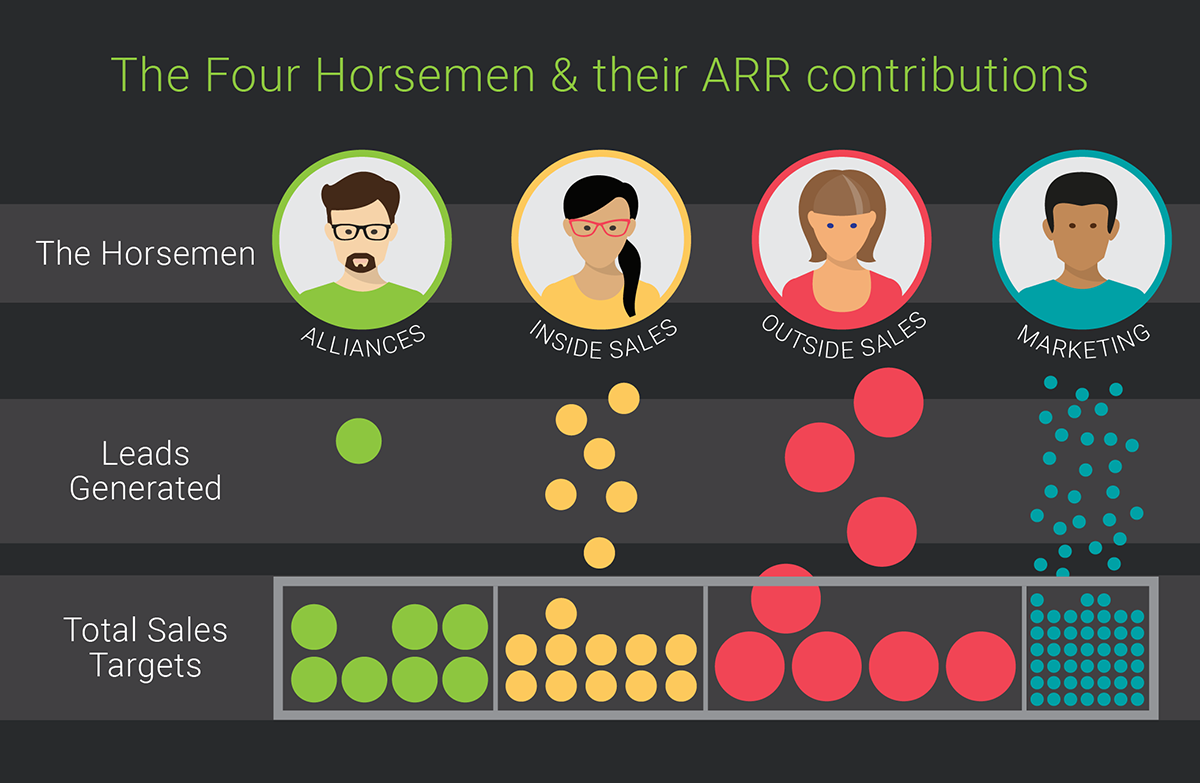 Adopting a revenue attribution model like the Four Horses is a great way to ensure Marketing is focused on their contribution to revenue. For more information on this revenue attribution model for high-growth companies, check out this post by Lauren Vaccarello on the Four Horses.
2) Improve Bottom-of-Funnel Marketing Activities
If your path is enterprise sized sales, the key to long-term, sustainable growth is ensuring that the right staff and resources are in place to support the systems and processes necessary to sell into Fortune 2000 companies. It's important to understand that selling into SMBs is not going to look like selling into enterprises. Too many businesses underestimate the length of an enterprise sales cycle, which, in some cases, can be 12 or 18 or more months. Everyone nods their head when this is said in the meetings, but if your current sales cycle is 30 days, that is a pretty big leap to make.
"It's important to understand that selling into SMBs is not going to look like selling into enterprises."
Take a close look at your marketing activities and be honest with yourself. Are your marketing efforts primarily focused on top-of-funnel activities (like brand advertising)? Is it time to shift your focus to measurable, attributable activities and directly drive revenue?
3) Enterprise Sales: Move Beyond Hand-Raisers
Today's enterprise sales cycle involves more stakeholders, more collaboration, more IT, Legal and Security review than we could have ever imagined five years ago. Solutions are more integrated, take longer to deploy, require more investment, and therefore are under more scrutiny.
That means understanding how to market to those different personas and keeping them engaged, involved at the right steps of the sales process, and overall manage a group buying decision is crucial. This requires a sophisticated salesperson and also takes time.
A handraiser sale (lead fills out a Contact Sales button) in many ways should be viewed as a failure or missed opportunity. Suppose a company is ready to buy today as soon as they reach out (especially a large one). In that case, that means you probably missed months of educating them on your use cases, expanding their understanding of where you could provide value, and overall missing an opportunity to significantly grow the basket size of the sale. What could have been a 6-figure deal turns into a recurring monthly credit card transaction.
For long-term success, your organization must move beyond the hand-raisers. That means not only intervening earlier but also proactively selling by investing in an outbound motion.
Wrap-Up
While a product that sells itself is a rare delight and one that should be celebrated, often those sales tend to be smaller and churn faster than their enterprise cousins.
Keep an eye out for red flags that your organization might be leaning too hard on its product to do all the heavy lifting and, if you find that it is, take action steps now to get on the right track with your marketing and sales efforts.
Have questions about transitioning to enterprise sales? Sign up for our newsletter! We send out a monthly recap of our latest content, including articles on Revenue Operations best practices, actionable insight on Salesforce optimization for enterprises, and more.