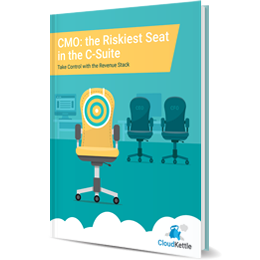 eBook
CMO: the Riskiest Seat in the C-Suite
The Harvard Business Review recently published a report on how the CMO is the riskiest seat in the C-suite.
Working with B2B SaaS CMOs we've seen this first-hand. Often, with CMO positions there's a lack of clarity around expectations and measurement of success.
The first step to take to combat the lack of clarity around CMO milestones is to define Marketing's contribution to Annual Recurring Revenue (ARR) pipeline. The second is to build a Revenue Stack that's powered by data you can trust. In this eBook we cover:
How to set up milestones and metrics of B2B SaaS success
How to implement cross-channel data cleanliness best practices
Why data visualization is vital for Go-to-Market organizational alignment
How to track attribution in Salesforce beyond the first or last touch attribution model
How to take your content distribution strategy to the next level
How to skyrocket sales referrals
Get the CMO: the Riskiest Seat in the C-Suite eBook now! 
eBook
Salesforce Data Cloud Demystified
Learn the fundamentals of Salesforce Data Cloud from MVP Eliot Harper.
Get the Guide
eBook
Nailing Speed to Lead
There are common challenges that businesses face when trying to optimize their Speed to Lead. […]
Unlock full Guide
Sign up for the latest tips & news from CloudKettle
Thank you for subscribing.