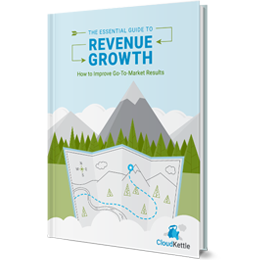 eBook
The Essential Guide to Revenue Growth
Congratulations! After a few pivots, some executive turnover, and more than a few intense board meetings; your company has achieved product-market fit. Now, you're in hyper-growth mode and the race is on. Whether its investors, or shareholders, there are high expectations of you and the team to meet your next milestone and you don't have much time.
This eBook will outline many of the strategies and requirements needed for success in the hyper-growth phase. Written for CMOs, CROs, VP Marketing, and VP Sales at B2B SaaS organizations; in the six chapters we cover:
Everything you need to know about the Revenue Stack as an executive
How to avoid creating technology and team silos
How to break down existing silos
How a Revenue Stack Audit can drive your roadmap
Pitfalls of Growth Hacking and Marketing's role in growth
Why implement a Data Warehouse and how to ensure a successful implementation
How to empower employees with data
We hope you find this eBook helpful. If you have any questions, reach out today.
Get the The Essential Guide to Revenue Growth eBook now!
eBook
Data Architecture Principles for Salesforce Marketing Cloud
Proper data architecture helps ensure that your data is secure, accessible, available, and can be […]
Download Now
eBook
The Revenue Operations Playbook 2020
In this eBook, we sit down with some of the brightest minds in Marketing, Sales, […]
Download Now
Sign up for the latest tips & news from CloudKettle
Thank you for subscribing.