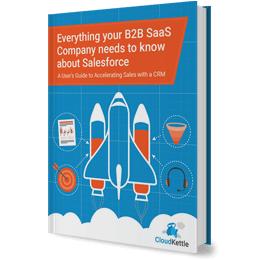 eBook
Everything your B2B SaaS Company Needs to Know About Salesforce
If you're a fast-growing B2B SaaS company, your CRM is the foundation for managing complex sales cycles, reducing churn, and empowering your Sales team to close deals faster. This eBook will help you to take your CRM from being just a database of client information to a platform that accelerates your Sales team's impact, streamlines Marketing's efforts, and enables Customer Success.
Get the Everything your B2B SaaS Company Needs to Know About Salesforce eBook now! 
Sign up for the latest tips & news from CloudKettle
Thank you for subscribing.