Transparency. Honesty. Accountability. These are the values that drive us as an organization and that motivate us to continue sharing our annual updates with you.
Overall, 2022 was a record year for CloudKettle, as we experienced significant growth in team size and revenue. Before we dig into that, a few caveats (we're the detail folks – it's our thing).
The facts and figures in this post are a combination of business metrics and interesting highlights about our industry and our team – the good and the bad. As we've mentioned in previous Annual Recaps, we don't have any investors or a board to report to, so we analyze these numbers and share them to keep ourselves accountable, continue to improve year over year, and of course – to give you a peek under the hood. For the full breakdown of previous years, see the recaps here:
Recovering from The Pandemic
Although we continue to feel the effects of Covid-19, 2022 marked a return to somewhat normal.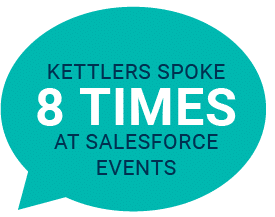 We had people back in our headquarters – a combination of team members who really wanted to be in the office full time, and several who enjoy a hybrid work approach (and perhaps the office snacks and nearby restaurants). We visited our team members across the country – from Vancouver to Toronto to Montreal – and had several of them visit Halifax. We also returned to the stage on the conference circuit, with speaking engagements at NorthEast Dreamin', Salesforce Connections, and Dreamforce – as well as several other in-person events across Canada, USA, and Australia.
Our Team
If we had to sum up 2022 in one word, that word would be GROWTH – the team grew by 12.5%. In particular, we expanded our Project Management (PM) and Business Analyst (BA) teams – the people who ensure the trains run on time. We hired like never before and also promoted a significant number of people from within the organization. They stepped up to the plate, taking on new responsibilities, allowing us to continue providing exceptional service to our clients.
As a strong finish to the year, we were named as one of Atlantic Canada's Best Places to Work, a testament to the positive and supportive culture we have cultivated within our team, and in particular the hard work of our Director of Human Resources Lisa Muise, who recently celebrated her 5 year anniversary as a Kettler.
The Salesforce Ecosystem
As always, Salesforce is the cornerstone of our business. Based on our Certifications, Equality work, Sustainable Development, and Practice growth, we're thrilled to announce that we've officially been recognized by Salesforce as one of their Summit Partners – the highest possible tier.
We've expanded our practice areas to include growing services such as Salesforce CPQ, Vlocity/Salesforce Industries, and Salesforce CDP, while continuing to reinforce our expertise in Salesforce Sales Cloud and Marketing Cloud. In addition, as we continue to iterate on our existing apps like Marketing Cloud Health Check, we've also released a new app on the Salesforce App Exchange – MJML Live Editor. This free app streamlines the email creation process for Salesforce users and is already receiving great feedback from the community.
Our Clients
In 2022 we added some exciting new names to the organizations we service, and continued working with some of the best in the biz.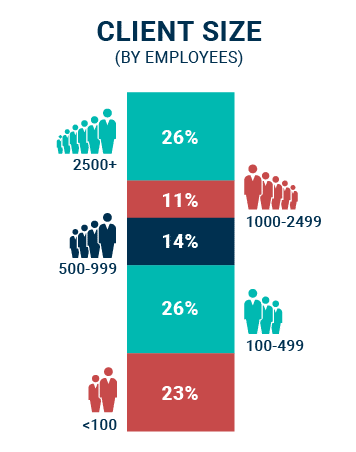 We're proud and fortunate to be able to say that household names like Freshbooks and Bell are on our client roster. Some fast facts about our clients in 2022:
40% of our clients are Canadian companies, and 60% are American. This is also reflected in our revenue, with 57% coming from the United States and 43% coming from Canada. A slight increase over 2021.
One of our clients is fresh to the world at only 1 year old, while 3 were founded over 100 years ago
23% of our clients have less than 100 employees, while 26% have over 2500 employees
Those who know, know. And as in previous years, the vast majority of CloudKettle revenue came from referrals, in 2022, it was 92%
It was a big year for growth. For 37% of our clients, this was their first year working with us and of our existing clients, 65% saw the continued value CloudKettle was providing and increased their investment
Maybe most exciting of all, our revenue was up an impressive 37%

As we continue to focus on enterprises in industries that have high compliance, security and regulatory requirements, it isn't surprising to see that the percentage of revenue that comes from large organizations continues to grow. In 2022, two-thirds of revenue came from organizations with a valuation or market cap of over 1 Billion dollars, with that number being closer to three quarters if government institutions (who are large, but of course don't have a valuation) are included.
Travel
As an organization, we will probably never travel as much as we did pre-covid (and honestly as the one who used to do the majority of that travel – I am relieved). But with events beginning again, we have had the opportunity to not only meet existing clients, but begin to spend time with people in the broader Salesforce ecosystem again. And it gave our team the opportunity to not only learn from others at events like Connections, various Dreamin's, TrailheadDX and of course Dreamforce, but also be onstage and showcase their own skills. Even with a reduced travel schedule, Kettlers spoke 8 times at official Salesforce events in 2022.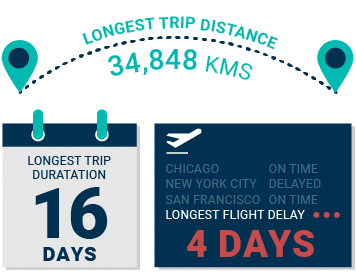 Longest trip by distance: Eliot Harper –34,848 KMs
Longest trip by days: 16 days –  Orange, NSW > Sydney > Vancouver > Halifax > Toronto > San Francisco > Los Angeles > Sydney > Orange, NSW
Longest flight delay – André – 4 days
Not every event has to be in person though. As we continue to adapt to a world with less travel, this year Kettlers also got out into the ether on webinars and podcasts like OpsStars, The ecomOps Podcast, RevOps Podcast, and RevGenius/Chili Piper.
Misses
It was another strong year of performance and, thanks to our hardworking team, we met or exceeded our revenue, EBITDA and related targets. But nothing is perfect and one of the things that stung this year was saying goodbye to team members who left CloudKettle to pursue other opportunities. While we would love for Kettlers to stay with us forever, we know that's not realistic and are happy for them. However, we continue to use both Stay and Exit interviews to gather insights about the areas we can improve upon when it comes to retention, and we're taking those learnings with us into 2023 – perhaps that is why we've already had our first boomerang* this January.
*Boomerang: employee who leaves company and then comes back
Content That Killed
While 2022 was a very busy year for us, that didn't seem to take away from the quantity and quality of the content that our team created. Kettlers produced 35 blogs, 22 YouTube videos, and 7 new downloadable resources. That's information and valuable insights – available to the entire Salesforce ecosystem – for free, every week.

Salesforce MVP Eliot Harper continued to be golden with his eBook on Salesforce Marketing Cloud Security garnering over 700 downloads, and his blog post on Top 10 Marketing Cloud Mistakes raking in over 7000 views. On the video front, Partner Dan Stratton's How to Calculate Conversion Rates in Salesforce Reports video had over 4000 views. Not too shabby.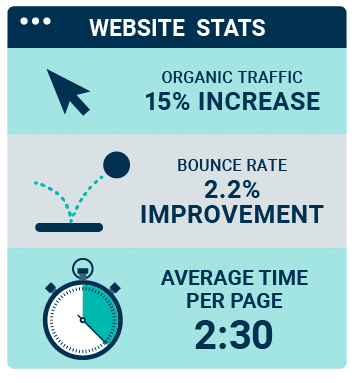 To make sure we were getting the word out about our fantastic content, we leaned into our social channels – some Twitter and a lot of LinkedIn. 29% of our downloads (ebooks, guides, etc.) came from Social traffic referrals (up from 10% last year), while 69% came from Organic and Direct traffic. On that topic, the total Organic Traffic to our website was up by 15% over 2022 – a testimony to the great content our team puts out into the world. And it truly is a team effort – as 67% of Kettlers contributed blog or video content in 2022. As we grew our content repertoire and played with some paid media, we saw our time on page come down a tiny bit – from an average of 2:40 in 2021 to 2:30 in 2022 – but similarly we saw a 2.2% improvement in our bounce rate.
Doing Well and Doing Good
Giving back to our community continued as an important theme in 2022. As a Pledge 1% Company, 1% of our profits were donated to causes our team members chose and we exceeded our goal of our team volunteering 1% of their work time to charitable organizations. Partnering with non-profits such as WAY and Mustard Seed, our team was able to put their skills to good use and assist organizations who might otherwise have a difficult time finding the Salesforce expertise they need.
We also undertook a sustainability review, where we were evaluated on our environment, labor and human rights, sustainable procurement, and ethics practices and were awarded a Bronze designation. Part of our goal in 2023 will be to build on this and continue to improve upon our commitments in this area.
Wrap Up
When CloudKettle began, 8 years ago, it was me in a basement, with a used office chair, desk and laptop from my previous job. The ceiling was so low (literally, not figuratively) that some visitors and prospective hires had to sit as soon as they arrived to keep from hitting their heads. It was a humble start with a lot of big plans. Now we are in an active growth season and the company is thriving thanks to groundwork that has been laid by a string of referrals over the past eight years.
From a blossoming team and client base, to improving systems and technologies, we're grateful for the support of our friends and clients, we're proud with how we've performed in 2022, and we're eager to take the lessons learned and apply them to 2023.