CloudKettle has always had transparency as one of its core values and that is one of the reasons why this annual recap is my favorite blog post each year. In it, we're looking back at the year that was and crunching the numbers to see how we performed against the goals that we set for ourselves. As we've noted in our previous annual posts, we have no investors or board members, so the only people we're accountable to on these numbers and goals are ourselves. Sharing this with all of our readers, partners, clients and supporters is a great way to keep us on our A game and publicly demonstrate that commitment to transparency, even when life throws the unexpected at us – or when Covid lingers for another year.
The facts and figures in this post are a combination of business metrics and interesting highlights about our industry and our team. For the full breakdown of previous years, see the recaps here:
The Pandemic
Just like we did in 2020, CloudKettle kept moving and shaking, adapting on a weekly basis to the fluid dynamics of a Covid business world. We stayed home, we spent a lot of time on Google Meets, we (safely) re-entered our office building – fully masked and vaxxed. And we also provided unlimited take-home Covid tests to our in-office staff.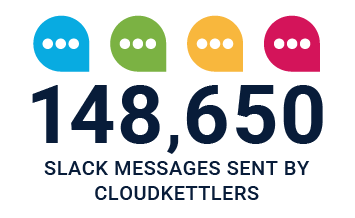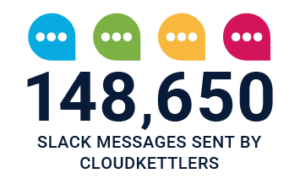 We didn't do any international travelling, but were lucky enough to have a few of our remote team members visit us at our head office. There's no large section of this post dedicated to travel this year, but I certainly don't regret how much more time myself and the whole team are getting to spend at home instead.
To stay in touch, we amped up our internal and client communication, and began to leverage Slack more aggressively. Our team sent 148,650 messages over the course of the year ~ 25% of those in shared channels, contributing to our value of overall transparency.
Our Team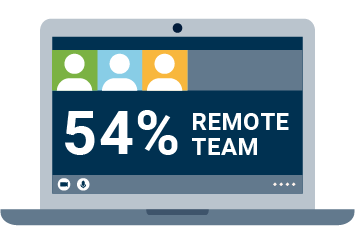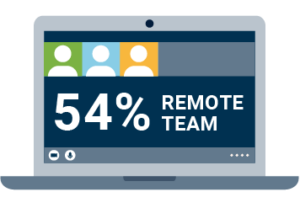 Despite not being able to interview people in person or recruit at events, our team still grew by a staggering 66% (up over the 45% of 2020) as we hired more people this year than ever before, growing our Operations, Salesforce, Marketing Automation and Business Intelligence teams. We made a long term commitment to team members that they can continue to work from home indefinitely and grew our remote employee-base to 54% of the total team.
Even with all those new hires, we stayed selective and kept quality high. Like last year, a Kettler has an average of 3.7 Salesforce certifications (and this includes our Operations team) and all Kettlers have at least one certification before they ever complete any client work.
The Salesforce Ecosystem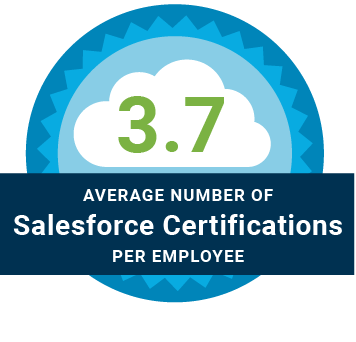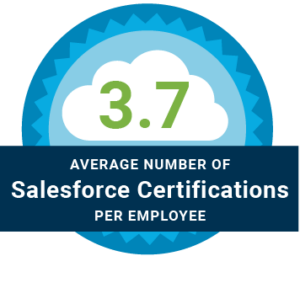 As a Salesforce Partner, it's always been key for us to engage as much as possible within the Salesforce ecosystem. This keeps us on top of new developments and products, allows us to grow our expertise, and helps us support clients across multiple Salesforce clouds (Sales, Service, Marketing Cloud).
This year, Dreamforce was scaled down from other years, and not open to visitors from outside the USA, so our team participated via the new streaming platform, Salesforce+. While we weren't able to attend events in person, we did continue to contribute to the Salesforce ecosystem in other ways throughout 2021.
Our Clients
We consider our clients to be our partners and they've returned that transparency and trust over what has been a difficult past two years for many of them. We're incredibly proud and grateful that they continue to choose to work with CloudKettle as they go through new phases of digital transformation, from better supporting a work-from-home culture to migrating customers from a largely in-store to digital buying experience. Despite being an unusual and uncertain year across all industries, our Client List grew by over 50% in 2021, and the churn rate was down to only 12%. Clients who increased their year over year investment in CloudKettle stayed relatively consistent with 2020 at 31%.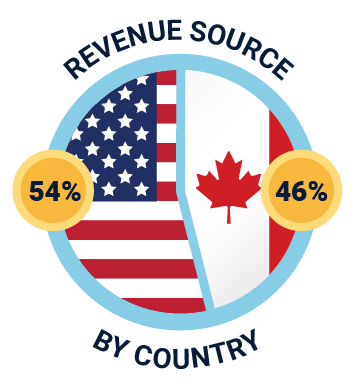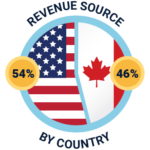 In terms of where our clients are located, it is predominantly in Seattle and the (San Francisco) Bay Area and overall the majority of our clients are USA-based organizations, with almost double the amount of American vs Canadian clients engaged with us in 2021. That trend is likely to continue as over 92% of our revenue comes from referrals and our referrals tend to be concentrated in those two traditional tech hubs.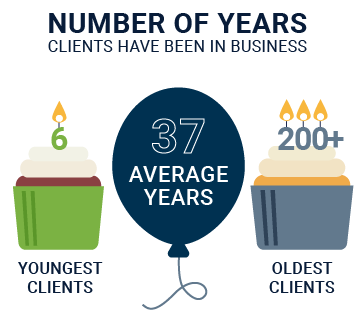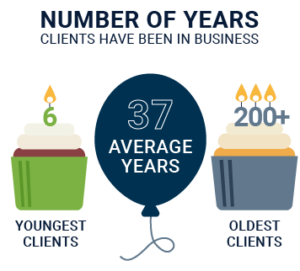 I always marvel at the range of ages and total company size across our client base. Salesforce and the ecosystem overall can be built and customized to perform for our oldest client (over 200 years old), and our youngest two clients (it was a tie) celebrating their 6th birthdays. The largest portion of our client base (44%) falls into the 10-25 year age range, and our average (we used the Mean for those of you wondering) client age is 37 years old.
Client Industries
In 2021, we put a major focus on continuing to grow 2 areas of the business: B2B SaaS and High Compliance/Regulated Industries (think Telco and Financial Services.) B2B SaaS companies now make up 65% of our client-base (many specializing in Fintech or Healthtech), while Financial Services/Telco make up 12% of our client base, but are outsized in terms of investment, making up almost a third of CloudKettle revenue.

We continue to serve a healthy mix of Publicly Traded, Venture Backed, Privately Owner, and Public Sector/Government clients. In large part because of our focus on referral based business and B2B SaaS companies, our percentage of Venture-Backed clients is trending upwards, and now accounts for 50% of our client base.
Misses
Like previous years, we were aggressive in planning our hiring and revenue targets and did miss them. We focus on creating sustainable growth, powered by top-tier talent and that meant at times in 2021 we turned away business because we knew we did not have the extra capacity to take it on and service it at the level our clients are accustomed to. We are fortunate that we have always been consistently profitable and continue to have no long-term debt and no board, so we can refer those prospects to other trusted partners easily and in-the-moment. It's always a difficult decision and one that directly impacts the overall revenue number in the short term, but one that I always know is right in the long term.
Content That Killed
Though we were busy working with clients, the team remained diligent in one of our other important activities: creating content. We published over two blog posts a month in 2021, and shared material relevant to all of our practice areas with contributions from 16 different team members. We take a lot of pride in how bright our team is and we love that our blog can be an avenue for them to push out into the world the thought leadership and best practices they develop, that we at CloudKettle take for granted and sometimes forget that not everyone in the ecosystem has access to.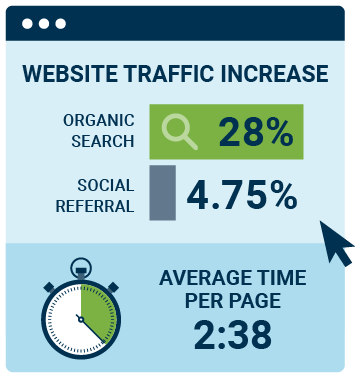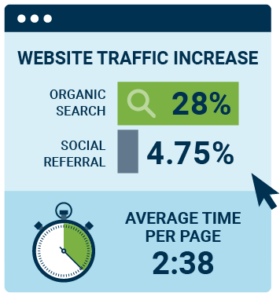 That great content our team creates is having a positive impact on our inbound Marketing efforts as well. Website traffic from organic search was up 28% in 2021, and traffic from social referrals was up 4.75%. The average time on page was 2:38, signalling to us that more people are finding CloudKettle organically and engaging with our content.
Like last year, we more than doubled our Newsletter Subscribers, and our most popular assets were:
Doing Well and Doing Good
In 2021 we maintained our dedication to the Pledge 1% Foundation, meaning that we donated over 1% of our time and profits to charities. While Covid tried its best to stop us, we were able to achieve 100% of our volunteer goal. We extended our efforts to new organizations, and had some remarkable achievements, including a live webinar with Eliot Harper which raised over $7000 for UCSF Benioff Children's Hospitals.
Our main focus was on supporting local charities, with the time and expertise of our team going to help organizations including: We Are Young Foundation, The Arthritis Society, SPCA, Volta, Digital Skills for Women, Welcome Housing, Halifax Partnership, MentorFirst, Black Business Initiative, ELL Program, Hubbards Barn, Data for Good, CLC, and Goderich Memorial Arena (just to name a few).
On the profit side, in Q1 of this year, employees will vote on which charities will receive our 1% profit donation from 2021 and they'll continue to allocate 1% of their work week to helping non-profits they chose to support.
Wrap Up
As with every year since CloudKettle was founded, there is a lot to be grateful for. When I originally started the company seven years ago, in many ways it was an avenue to get to do really interesting work I could be passionate about with people that I enjoyed spending time with.
A lot has changed. Our team and client base has grown remarkably. The technology we can leverage has come further than I ever could have imagined, as has the focus companies now place on the Sales and Marketing engines we help power. But through it all, after seven years, I still get to wake up, go to work and know I'll be challenged by the best and brightest, that I'll learn something new and I'll get to work with team members, clients and partners who are kind, brilliant and passionate. In short, like I said above, a lot to be grateful for – so thank you everyone who has helped get us here.