Everyone gets a bit introspective this time of year and like most organizations, we crunch the numbers and see how we performed against our annual goals. What is different about CloudKettle is that we also publish details highlighting interesting facts and figures about the prior year's performance. CloudKettle has no investors or board to report our year-end results to, or be held accountable by (which has its pros and cons). But, we do have a culture of transparency, and much like we share our annual plans and goals with a circle of trusted friends for feedback, we also believe there is a lot to be gained from being publicly transparent as an organization about our performance.
The figures presented in this post are a combination of business metrics and other numbers that speak to how much gets measured at CloudKettle. It was a tough year for everyone, but this post remains one of my favorite things to write.
If you're curious about how previous years went, you can read our other annual recaps here:
A Pandemic
Year six for CloudKettle, like everyone else, was a very different one. We were fortunate that Covid did not have an immediate impact on the company financially, but there is no question it was hard on our team members' mental health, our clients and overall the world just wasn't as optimistic a place as it usually is. We're part of a global community and 2020 brought that into a sharper focus than it ever has been before.
Our Team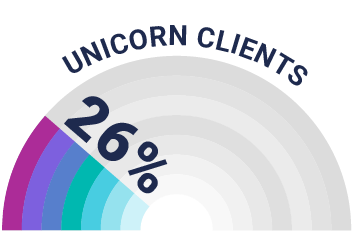 Within all that though, there were some incredible rays of sunshine, in particular from our team. In early March, I was in Seattle and San Francisco with clients, and just as I was leaving to fly back to Canada, things were getting weird. I fly a lot and spend a lot of time in airports and the vibe for that final flight home was dystopian. People were scared and everything felt "off".
That trip, that signal of what was happening on the West Coast, made the decision to shut down the office quickly an easy one. It is a huge credit to our team that we could decide to do it, put together a program on how to do it, and execute on it basically over a weekend with no issues. On March 16th, CloudKettle went 100% remote on about 72 hours turnaround. Each employee was given a temporary home office allowance of $500 to help set themselves up and some great support from their managers. With just a bit of notice, our team made the transition seamlessly. I am grateful for how hard our team worked to make that happen and the effort they put forward over the past three quarters to ensure that our clients were successful, nothing fell through the cracks, and team members were all checked up on frequently. It is hard to imagine something "bigger" than Covid and our team never missed a beat.
Our Clients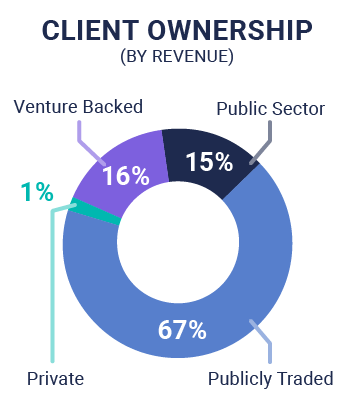 Similarly, our clients were incredibly thoughtful and generous. Many are in lines of business, like travel and home visitations, that were significantly impacted by Covid. But even so, not a single customer asked to terminate their retainer, not one stopped paying. Even for the few that needed new payment terms, it was made as a request in the context of partnership, always with the preamble of "if we did this, is it going to negatively impact CloudKettle?". We are very fortunate to have that kind of strong, trusting relationship with our clients and I am grateful for it.
Who We Help (Our clients)
In the first one of these posts I wrote six years ago, I said "I also wanted to build the company on a foundation of long term relationships. Larger one-off projects would be nice, but we wouldn't spend our valuable initial resources pursuing them. Instead, we sought clients that wanted us to become an integral part of their team." I think that 2020 really demonstrated that the CloudKettle team has been able to do that, not only through our growth but also with indicators like our 4.9/5 satisfaction rating from the survey's Salesforce sends our clients.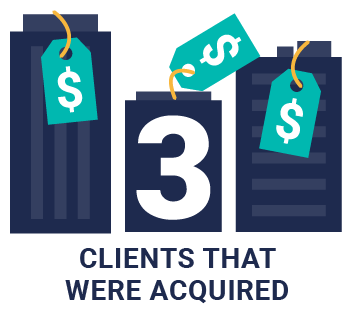 It remains the case that most of CloudKettle's revenue comes from long-term retainer clients. This year, almost all of those renewals of annual retainers (there were a few in Q1 before we stopped traveling) took place virtually and all of our new clients that began working with us in 2020, had never met us in person.
We continue to grow on the enterprise side, with over a third of our clients having over 1,000 employees and we continue to have about two-thirds of our revenue come from publicly traded companies. Our client base also continues to mature, with almost three-quarters of our clients being over a decade old (almost a quarter are 25 years or more in age).
While some of our clients struggled, understandably in 2020, most thrived. In addition to growing their revenue or market share, three in fact were acquired; including Segment and Chef. No small feat in a time when meeting boards, investors, and acquisitors had to be done remotely.
Continued Growth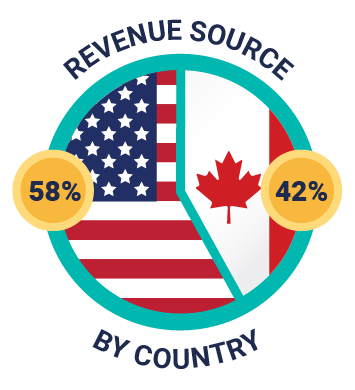 Despite Covid, CloudKettle grew again this year, in particular, the revenue lines of Salesforce Core (131%) and Marketing Automation (91% growth that was primarily Marketing Cloud based) grew at a healthy pace. There was also growth in our burgeoning Business Intelligence line of business of over 600%.
Long term Debt*: $0
Balance of revenue between the United States and Canada – 58% United States (68% in 2019) and 42% Canada (32% in 2019)
Growth in the total number of clients: 25%
Clients who increased their investment in CloudKettle in 2020**: 30% (33% in 2019, 37% in 2018)
% of Clients who are Unicorns (Valuation or Market cap of over 1 billion dollars – 26%)
Clients who are in their first year of working with CloudKettle: 39% (67% in 2019)
Referrals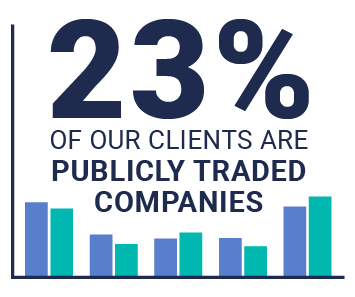 Like previous years our growth has been driven significantly by word of mouth. While that cannot continue at the pace it has forever (it is not infinitely scalable), I am always thankful that our clients are so generous in sharing recommendations about us. In 2020, 96% of our revenue came from referrals, with the remainder coming from our content, speaking, and other related efforts.
*Does not include monthly rotating debt like credit cards.
**Clients who spent more in 2020 than 2019 with CloudKettle over the same period of time.
Our Team
We continue to grow in revenue and number of clients, which also means we are always looking for amazing new talent to join our team. This year we grew the team size by 45%, even in the context of Covid, and almost half those hires were people we never had the opportunity to meet in person. Their introduction and interviews (and even most of their time with the company) have been completely remote. As we grow, doing this becomes more important (we will need to reach farther afield to find great talent), but Covid forced our hand on getting good at it fast. There are still some road bumps and our hiring funnel collapsed in Q2 (then rebounded in Q3), but we are making it work.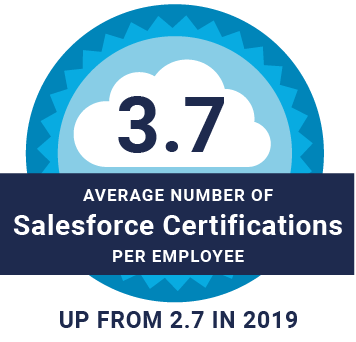 This year was also the first year that CloudKettle saw any real turnover in team members. Now that we're getting older and larger as an organization, this is inevitable. While we strive to retain team members, it is understandable (and healthy) that not every hire over the years stays with the company indefinitely as their life situations change.
On a more upbeat note, we continue to invest heavily in team members building their skills. A Kettler has on average 3.7 Salesforce certifications (up from 2.7 in 2019). For those that have never written one, these certification exams by Salesforce are difficult to pass, but every team member at CloudKettle (including Operations team members) is expected to earn, at a minimum, their Salesforce Admin certification and we have an internal training camp to ensure this. While we did have some turnover this year, I believe that this continued focus on skills training and growing our team members into more senior roles helps contribute to our overall low turnover rate.
It was also a banner year for our team outside of work. Almost 20% of Kettlers purchased a home in 2020 and over 10% grew their family with a wedding or the addition of a new baby. With everything that happened this year, it is amazing to see these wonderful news stories being shared and celebrated every month.
Travel
Travel was, expectedly, way down in 2020. There was essentially no real business travel, in particular, flights after the first week of March. This had a meaningful impact on the profitability of the company in a surprising way. Travel has historically been CloudKettle's single largest line item after costs related to labour (salaries, benefits, insurance, etc.). With very few flights, hotels, rideshares, cabs, even meals in 2020, the company became more profitable. We continued to grow our revenue, even in the absence of meeting with our clients and prospects in person. From a long term perspective, how we all work has changed fundamentally, but there is no question that work travel will re-emerge as a major ongoing investment for CloudKettle.

With that in mind, here are our travel numbers this year:
Most used airline: Air Canada (no change from previous years)
Longest single trip: 7 days (historically this has been 14 days around Dreamforce)
Number of km travelled: 33,159 (down from 312,821 in 2019, 262,525 in 2018, 206,000 in 2017 and 120,000 km in 2016)
Most expensive rideshare or cab $44 ($82 in 2019, $98 in 2018, $76 in 2017, $94 in 2016 and $55 in 2015
Hotel nights: 13 (down from 154 in 2019, 135 in 2018, 117 in 2017)
The Salesforce Ecosystem
We're obviously passionate about the Salesforce ecosystem. Every one of our clients are using at least one of Salesforce's Clouds. Most are using two or more (for example, Sales, Service, and Marketing Cloud).
While there was no Dreamforce to participate in during 2020, the team did look for ways to contribute to the ecosystem this year.
Over 1,500 Trailhead badges completed, on top of the Salesforce certifications our team holds
Our team spoke on behalf of Salesforce 11 times in 2020
Kettlers hosted five Trailblazer Community Meetings
Our Salesforce Practice Lead Prag Ravichandran was interviewed on the Salesforce Admins Podcast and was also named an official Salesforce Trust Champion.
Eliot Harper was also again recognized by Salesforce in their MVP program for his contributions (too many to list here) to the Salesforce (particularly Marketing Cloud) ecosystem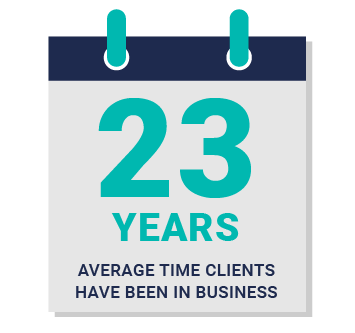 In addition, as part of our commitment to growing the Salesforce ecosystem locally, CloudKettle team members host free Salesforce Saturday training cohorts. These run for 12 weeks each, with cohort members attending regular classes and completing exercises and homework. Demand is high and we get many more applications than can be accommodated. We give preference to individuals who might struggle to pay for this type of training if it wasn't free and to whom it will provide this biggest leg up in their career.
At the end of a cohort, participants leave with the skills and knowledge required to pass their Salesforce certification exam. Several participants have also found employment soon after graduation (including at CloudKettle and with our clients).
In 2020, we were only able to offer one cohort (instead of three), and that cohort wrapped up remotely due to Covid. Here are some interesting stats from our 2020 Salesforce Saturday cohort:
60 people applied, with an overall acceptance rate of 17%
25 hours of free instructor-led training was provided to the community by our team (plus prep time, homework correcting, and helping students throughout the week)
Four sessions occurred in person and two were held remotely
Where We Missed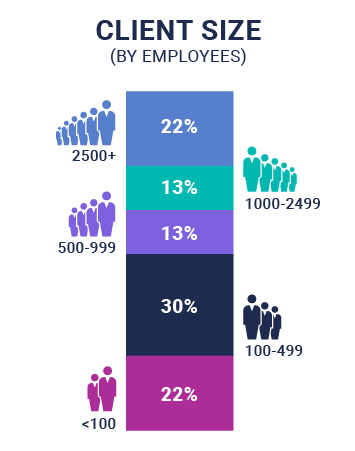 We did miss our aggressive overall revenue goal, but successfully wound down a less profitable line of business and significantly grew our core offerings. In addition, we were able to maintain profitability every quarter.
We were able to grow the team, but we did not meet our hiring goals. We also did not expand the amount of revenue from new clients (vs existing) that we had hoped.
CloudKettle had aggressive goals on the Operations side of the business in 2020. While we have historically had strong Customer Service, Marketing and Sales culture and systems, we've lagged on Operations. This year we had major goals in terms of platforms and changes in culture around project management, capacity planning, and human resources systems. While we did deliver on some banner projects around systems in general (including becoming SOC2 fully compliant and audited), some items like our Human Resource Management platform deployment were not begun until later in the year than originally planned.
Content That Killed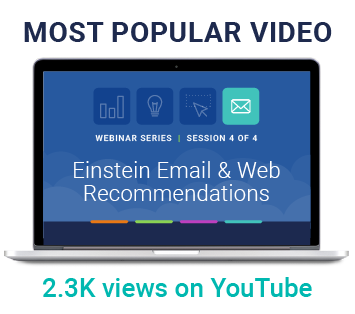 Historically CloudKettle has contributed a significant amount of content to the Salesforce ecosystem. 2020 was no different. This may seem like an odd focus for a company that gets almost all of its revenue from referrals, but we know that even after the referral is made, our prospects review our content and overall validate who we are, what we do, and our areas of expertise.
In particular, webinars excelled for CloudKettle in 2020, as did video in general – primarily around the amazing content that Salesforce MVP Eliot Harper delivered. The most popular video on CloudKettle's YouTube channel had 2.3K views (Einstein Email and Web Recommendations for Salesforce Marketing Cloud), while Removing Emails from Journeys in Salesforce Marketing Cloud had the highest click-through rate. Related to this, our Einstein for Marketing Cloud webinar series had a huge number of registrations from the overall ecosystem, but also Salesforce employees, with over 1,000 registrants for the first webinar alone.
We also grew organic traffic to our site by 78% last year. Our goal has always been to provide actionable insights on the CloudKettle blog, and some of our highest performing posts in 2020 were:
Lastly, we more than doubled our newsletter subscribers, and our top three performing assets were:
Doing well and doing good
It was a fortunate year for CloudKettle. We were successful, which means that like in previous years we were able to donate over 1% of our profits to charities. And in a few weeks when we have the 2020 books closed, our employees will vote on the charities they want to support this year and we will do the same again.
However, despite our team's best efforts, we were not able to meet our goal of donating 1% of our team's time to volunteering. This is really unfortunate because many charities needed help more than ever, but were unable to accept volunteers. Understandably their focus was keeping their team and those in the community they serve safe; soup kitchens, food banks, charities, and similar groups had to retrench in 2020.
Still, like they always do, the team did find new ways to donate hours during their workday to volunteer remotely – helping others. The goal was that the CloudKettle team would donate 1% of our work hours to charity and we did miss that. However, there was still a lot of assistance provided to non-profits that really needed it, with Eilidh Lindsay Sinclair being the top Kettler contributing her time.
Why These Figures?
Every year this is my favorite post to write. We preach transparency internally and we ask our team members and clients to be transparent with us. Whether you are a prospective new team member, a client, a potential client or one of the many folks who have helped us over the years – I hope these stats (some serious, some just a sign of our numbers focused curiosity) were interesting and even helpful for you.
Wondering about a number we didn't mention? Have feedback? Get in touch by clicking here. We'd love to hear your thoughts.
And again, a huge thank you to everyone who contributed to CloudKettle's success this year.