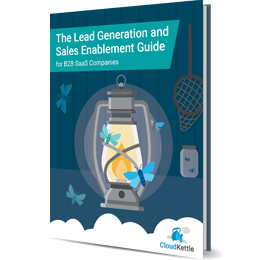 eBook
The Lead Generation and Sales Enablement Guide for B2B SaaS Companies
This is a must-read for any B2B SaaS startup or company that's scaling quickly. During a decade of working with B2B SaaS organizations, two of the biggest gaps we've consistently seen are in lead generation and sales enablement best practices. Our motivation behind writing this eBook was to give fast growing SaaS companies a free resource to help fill this gap.
Get the Lead Generation and Sales Enablement Guide for B2B SaaS Companies now! 
eBook
Data Architecture Principles for Salesforce Marketing Cloud
Proper data architecture helps ensure that your data is secure, accessible, available, and can be […]
Download Now
eBook
The Revenue Operations Playbook 2020
In this eBook, we sit down with some of the brightest minds in Marketing, Sales, […]
Download Now
Sign up for the latest tips & news from CloudKettle
Thank you for subscribing.