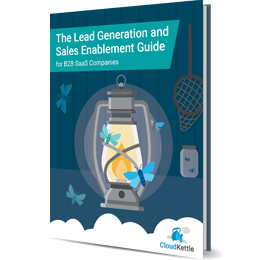 eBook
The Lead Generation and Sales Enablement Guide for B2B SaaS Companies
This is a must-read for any B2B SaaS startup or company that's scaling quickly. During a decade of working with B2B SaaS organizations, two of the biggest gaps we've consistently seen are in lead generation and sales enablement best practices. Our motivation behind writing this eBook was to give fast growing SaaS companies a free resource to help fill this gap.
Get the Lead Generation and Sales Enablement Guide for B2B SaaS Companies now! 
eBook
Salesforce Data Cloud Demystified
Learn the fundamentals of Salesforce Data Cloud from MVP Eliot Harper.
Get the Guide
eBook
Nailing Speed to Lead
There are common challenges that businesses face when trying to optimize their Speed to Lead. […]
Unlock full Guide
Sign up for the latest tips & news from CloudKettle
Thank you for subscribing.