Data is at the core of virtually everything we do as digital marketers. It powers how, when, and where we talk to our customers and prospects. And there's a lot of it. In fact, as marketers it's easy to feel overwhelmed by the sheer amount of data at our disposal.
It's estimated that Internet users generate about 2.5 quintillion bytes of data each day. (For reference, there are 18 zeros in a quintillion.)
While 'big data' is incredibly useful when utilizing machine learning and AI tools, the real gold often lies in our 'small data', also known as zero-party data – data explicitly and unambiguously provided directly by customers.
In this post we'll show you simple and practical ways that you can use Salesforce Marketing Cloud to collect and act on zero-party data to personalize your campaigns and journeys without relying on expensive and complex AI tools.
So what is zero party data? Put simply, zero-party data is data that is provided directly from our customers. According to Forrester Research (who coined the term):
"Zero-party data is that which a customer intentionally and proactively shares with a brand. It can include preference center data, purchase intentions, personal context, and how the individual wants the brand to recognize [them]."
Customers share zero-party data with brands they trust, so it's important to collect only information that can be used to provide an enhanced experience which brings more value to the customer.
While it can be tempting to rely solely on behavioral data to infer a customers' preferences and determine what type of experiences to serve them, it doesn't always paint the full picture. Whenever possible, we suggest layering behavioral data on top of zero-party data to make sure you have the clearest understanding of your customers.
There are multiple ways to collect and action zero-party data using Salesforce Marketing Cloud. There is actually a good chance you're already using these tactics to some degree, but could get more from your efforts by leveraging CloudPages.

Three Ways to Collect Zero-Party Data with SFMC CloudPages
1. Custom Preference Centers
Email Preference Centers are a simple example of a method for collecting valuable zero- party data, since you likely have one in use already.
Every Preference Center should ask customers for the basics:
What types of communications they'd like to receive
How frequently they'd like to receive communications and on which channels (email, SMS, etc.)
Basic demographic information
However, Preference Centers hosted on CloudPages can be customized to capture very specific information from your customers, so don't limit yourself here!
Ask B2B customers what specific business problem they are trying to solve
Ask what types of products they are most interested in
If you're a clothing retailer, ask for their size, colour and style preferences
Example – Atlantic Lottery
Atlantic Lottery Corporation (ALC) is an organization that provides government-regulated and responsible lottery products in Atlantic Canada. ALC offers over 100 games and has a wealth of transactional data to help personalize players' experience. ALC uses customizable alerts to gather the player's explicit interests and preferences regarding what information they are most interested in.
This allows Atlantic Lottery to send specific jackpot alerts each player has requested, and then, use additional data points to further personalize the messaging within those alerts to provide a 1-to-1 experience.
2. Surveys
Surveys are an excellent way to learn more about our customers, but marketing teams often rely on third party platforms to run them. This can result in valuable insights being captured, but never making it back to Marketing Cloud.
By using CloudPages to power your surveys, you'll not only gather useful insights, but the data you collect will be immediately actionable inside of Marketing Cloud as well. This can allow Marketing teams to:
Trigger a journey upon survey completion
Add a customer to a new segment based on responses
Layer survey data on top of Preference Center data to round out customer profiles
CloudPages helps to deliver a more personalized survey experience to customers. For example, when a customer clicks through to a survey hosted on CloudPages from a Marketing Cloud email, all of their data in Marketing Cloud can be accessed before rendering the page. This allows for the delivery of a different version of the survey based on what is already known about the customer.
Example – Destination British Columbia
Surveys don't always need to be formal, drawn-out, multiple question affairs.
Destination British Columbia (DBC) is a Destination Marketing Organization, with the goal of attracting visitors to their beautiful province. In wanting to learn more about their email subscribers, without bogging the signup process down, DBC recently added a single follow-up question to the thank-you page, "Are you planning to travel in BC this fall?" The subscribers' response will determine how DBC will market to them in the short and long term.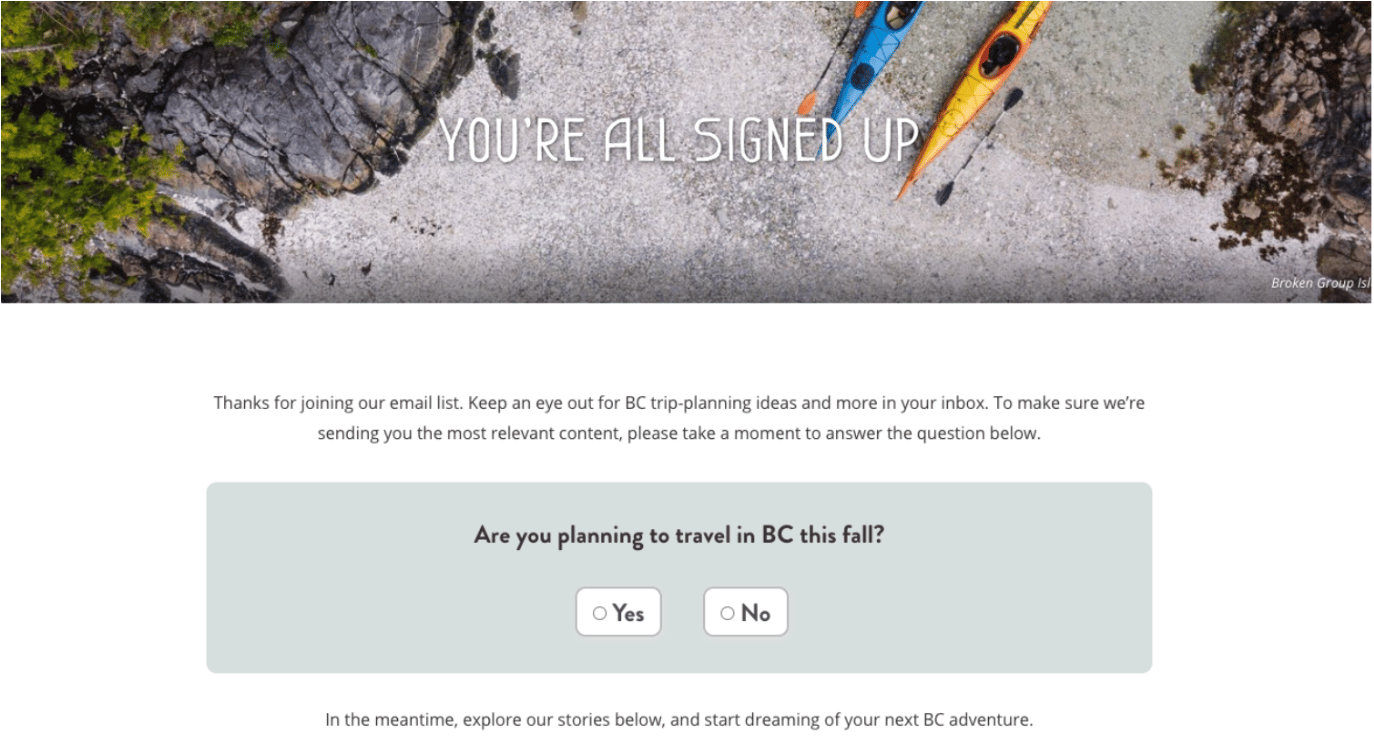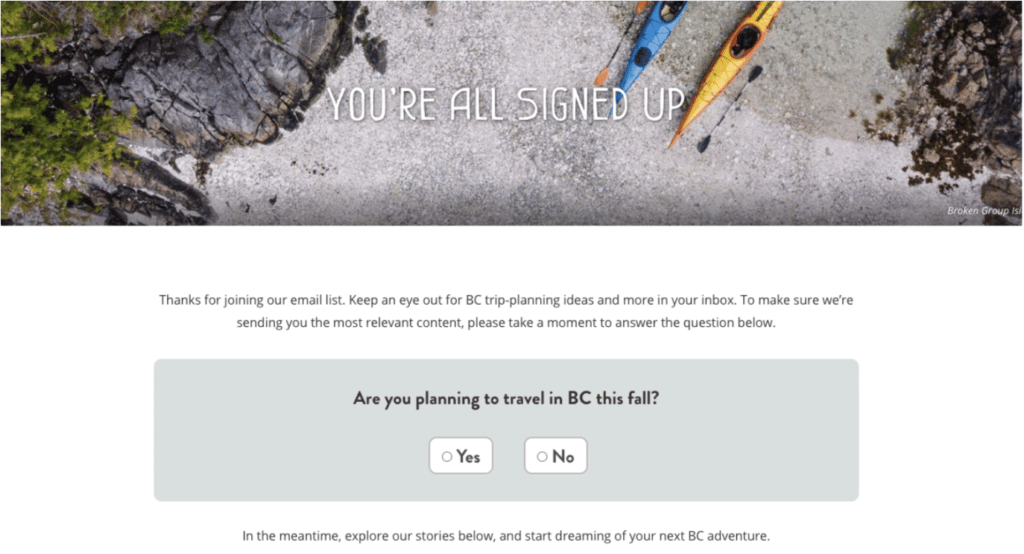 Subscribers that answer 'Yes' to this question are entered into a Welcome Series intended to provide more specific information to help them plan their Fall travel, while all others are routed to a more generic Welcome Series.
Interestingly, this page is not hosted on CloudPages. When a subscriber answers the question a javascript snippet sends their answer back to a Code Resource hosted on CloudPages, which processes the response. Yes, you can leverage CloudPages even from outside of Marketing Cloud!
This type of optional, conversational question, when asked in-line with the content a visitor is already engaged with, is not only a great way to capture additional first-party data, but it can also be a very strong indicator of purchase intent. If a visitor is motivated enough to engage with a question, we may be able to infer that they are more likely to be further down the road to making a purchasing decision.
3. Contests
Contesting has long been a popular tactic amongst marketing teams. Contests give us a great hook to run ads against, provide access to partner audiences, and can provide a steady stream of fresh top-of-funnel leads.
But, similar to surveys, most tend to rely on third-party platforms to run their contests. Leveraging CloudPages gives more flexibility and value to our business by personalizing the contesting experience based on where each individual entrant is in the customer lifecycle .
Consider a typical B2C business running a contest powered by CloudPages. Because we have full access to all of the Marketing Cloud data at our disposal, we can deliver a personalized experience to each entrant:
Fresh leads, after entering, can be shown a purpose built thank-you page designed to introduce them to your business and entice them to take another action that moves them closer to becoming a customer. This could be a promotional offer, an educational resource, or a CTA to book a call to learn more.
Regular/engaged customers can be shown a thank-you page that suggests items based on their most recent purchase, asks them to review a recent purchase, or even displays useful information about their account.
Lapsed customers entering contests provides a rare opportunity to engage with folks who have otherwise not been successfully engaged . We can take this opportunity to offer a strong promotional offer or ask why they haven't purchased in order to determine the next best offer to present to them. This is an amazing opportunity to trigger a tailored 1:1 winback sequence.
Third Party Integrations
As you can see, there are endless possibilities for building custom solutions to help us collect and act on zero-party data using Marketing Cloud and CloudPages. But it doesn't always make sense to build your own solution.
If you've found a great survey, form, or contesting solution that checks all the boxes for you, but does not have a native Salesforce Marketing Cloud integration, you may be able to use the same approach described here to build your own.
Many of these services offer APIs and Webhooks that can be used to easily integrate with Marketing Cloud. Rather than building an entire custom solution on CloudPages, explore the possibility of building a handler or mini API on CloudPages to consume requests from the third-party platform and enjoy the best of both worlds!
Wrapping Up
Having the ability to identify exactly who a customer is as they interact with our Preference Centers, surveys, and contests while providing personalized experiences based on the customer data we have in Marketing Cloud is powerful, and something difficult to achieve with third-party platforms.
With a bit of technical knowledge, you may be able to replace those third-party platforms by replicating their functionality within CloudPages while gaining tighter integration with your existing customer data and the ability to create complete custom experiences.
Stay tuned for more technical tutorials around how to build these types of solutions on CloudPages yourself, or get in touch to chat about how we can help you ramp up your first zero-party data efforts with CloudPages.