This post is written for marketing automation professionals and provides actionable advice on how to implement a preference center, including:
What is a Preference Center?
A preference center enables subscribers to decide what types of messages they want to receive from your organization. Preference centers aren't a legal requirement, but, at a minimum, you need to provide the ability for subscribers to opt-out (or unsubscribe) from marketing communication. While a simple 'one-click unsubscribe' link in an email is perfectly acceptable, preference centers help to ensure you lose fewer subscribers.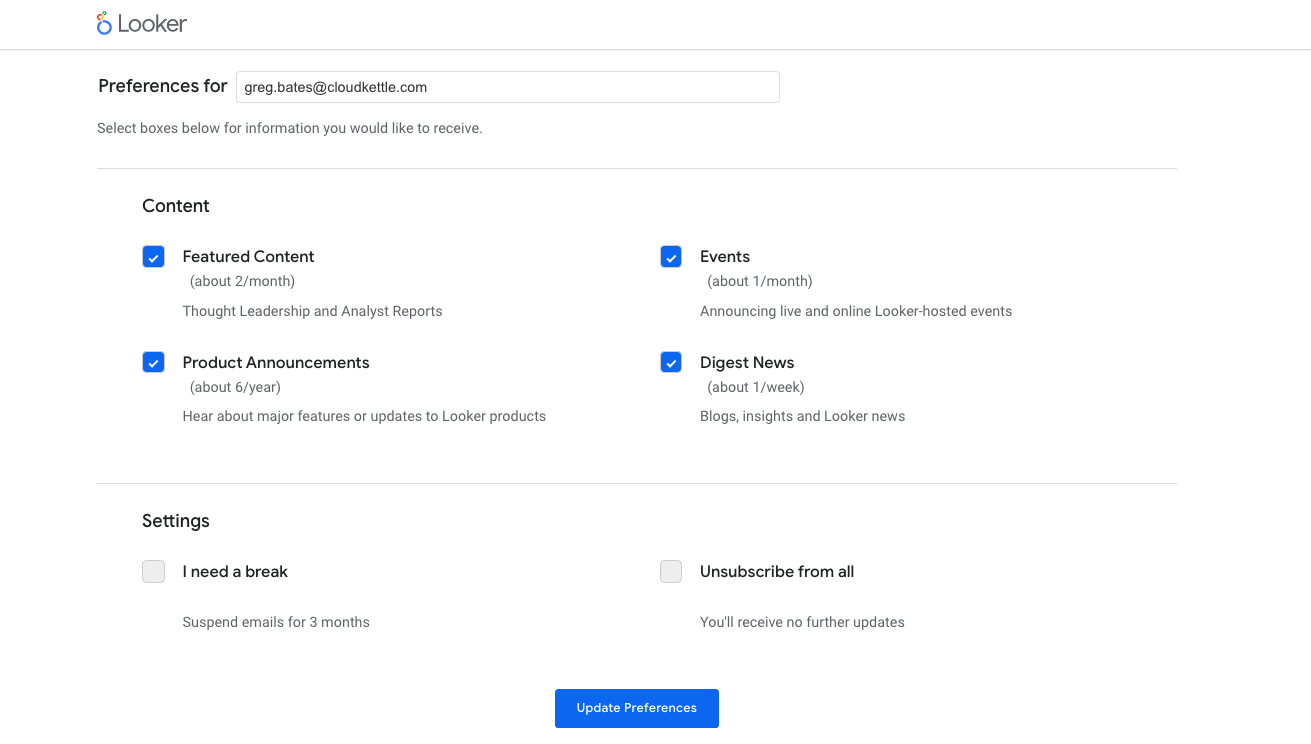 "A preference center is what makes your relationship with subscribers truly two-sided and allows customers to dictate how they would like to be contacted and about what topics."
In most cases, a subscriber will visit a preference center when they want to unsubscribe. However, they may prefer to receive fewer messages or only messages about a specific topic. Providing Subscribers with alternative options to unsubscribing will help to reduce your unsubscribe rate.
Why Your Organizations Needs a Preference Center
Surprisingly, sixty percent of marketers don't give subscribers the option to select the types of emails they want to receive. Only thirty percent of marketers allow their subscribers to decide how often they want to be emailed.
"Providing Subscribers with alternative options to unsubscribing will help to reduce your unsubscribe rate."
When a subscriber visits a preference center page, it is a significant event in the customer lifecycle. It's a signal that something is off about the way they are being communicated with, and it's an opportunity to not only stop them from unsubscribing but change their experience with the brand.
A preference center can make the difference between a prospect unsubscribing out of frustration, and unlocking the exact content and experience they're looking for to keep the relationship alive and sales potential on the table.
A well-designed preference center can also help you build more complete profiles of your subscribers. Using surveys and progressive profiling within your emails and within the preference center itself, you can slowly learn more about your subscribers over time.
Preference Center Design Best Practices
Now, we're going to take a look at some preference center design best practices. In this section, we offer actionable insight on how to implement or improve your preference center. However, it's up to you to decide which of these approaches apply the most to your own business.
<h3″>Preference Center Design: Frequency Options
One of the most important options organizations can give subscribers is the ability to control the frequency with which they are being emailed. In the image below, Looker offers options around the frequency of each type of email they send. This gives customers a really clear idea of how much email they are signing up for and allows them to fine-tune their subscription.
Preference Center Design: Snooze Emails
Giving subscribers the option to snooze or pause communication can also help retain subscribers. Similar to snoozing a message in Gmail that you aren't ready to take action on but want to be reminded of later, this feature allows subscribers to take a break without unsubscribing.
When a subscriber hits "snooze," it lets the organization know their content is important enough to the customer that they weren't ready to unsubscribe completely. Once the subscriber is out of hibernation, you can add them to a 'Welcome Back' journey to ease the subscriber back into regular mailings and even do some progressive profiling to try and learn more about the customer so marketing communication can be tailored to their interests.
Preference Center Design: Fatigue Rule
Another option is to offer what is called a fatigue rule for commercial emails. This lets your subscribers define a cap on the number of emails they can be sent each month. For example, in the image below, Qatar Airways only offers a general newsletter, so this type of fatigue rule works well.

However, if Qatar Airways were to offer several different types of communications, all with different frequencies, offering a cap on the number of emails a subscriber is receiving may not be the best approach. Let's say Qatar Airways sends newsletters, new route announcements, promotional offers, and other types of emails; it will be difficult to decide which emails should be sent and which should be suppressed.
"If your organization offers multiple types of email categories, offer options around the frequency of each type of email you send (newsletter, product announcements, etc)."
Include A Fatigue Rule On Your Newsletter Sign-Up Page
In addition to offering a fatigue rule in your preference center, consider including this option on sign-up as well.
Preference Center Design: Blackout Window
Allowing subscribers the ability to set a blackout window is another alternative option to unsubscribing. In the example below, the organization allows the user to specify a date range to blackout.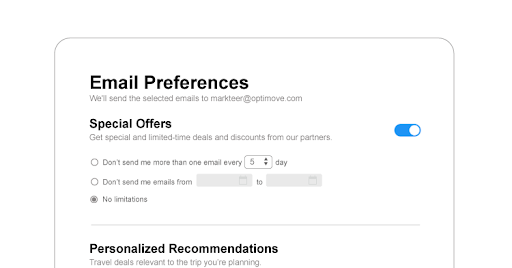 Organizations can also give subscribers the option to black-out specific days of the week, or even specific times during the day.
Preference Center Design: Email Categories & Channels
Another Preference Center best practice is to allow subscribers to choose which types or categories of emails they would like to receive. Consider including a description for each category, explaining what a 'Daily Digest' or 'Product Updates' email actually contains, to help the subscriber make an informed decision.
For example, we can include additional channels, like SMS, push notifications, or inbox messages to mobile apps. Spotify does a great job of this. As you can see in the image below, subscribers can control what type of content is delivered through the specific channel they would like to consume it in.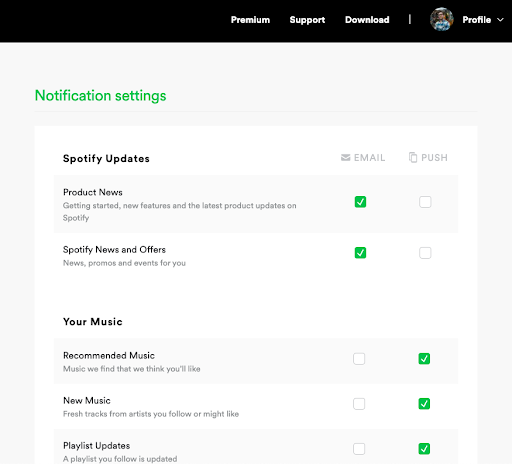 In addition to including email category descriptions, consider including a link to a sample email, where the Subscriber can preview sample content of these emails.
Preference Center Design: UI Best Practices
While UI (User Interface) design best practices could be a blog post in itself, here are four recommendations you should consider.
Swap Out Checkboxes with Toggle-based Controls
While form checkboxes provide a perfectly functional method for selecting preferences, animated toggle controls provide a richer user experience. Look to design systems like Material Design for inspiration.
Keep Forms to a Single Page
Aim to keep all of the content on a single page, above the fold by keeping your copy and options short and concise.
Avoid Using Links that Take Subscribers Away to a Different Page
For example, to view your terms and conditions. Instead, include this additional content in collapsible sections or scrolling text boxes to reduce the bounce rate on your page.
Multilingual Emails
If you are sending multilingual emails, then make sure you have a multilingual preference center. This might seem obvious, but many companies overlook it.
Preference Center Design: Legal Considerations
Firstly, this is by no means legal advice. In fact, the number one rule of consent management is to always consult a legal professional to ensure compliance.
With that said, it's important to explain to Subscribers that they will continue to receive transactional communications, even after unsubscribing. Examples of transactional emails include password reset and billing-related emails.
Additionally, you may be required to give Subscribers the option to opt-out of email tracking or even exercise their right to be forgotten to comply with privacy regulations in your subscriber's country (or countries). Consult a legal advisor to confirm whether this applies in your specific case.
Lastly, in some scenarios, subscribers may continue to receive email marketing communications after unsubscribing. For example, if you are using more than one marketing platform and need to synchronize unsubscribe requests across these platforms. In these scenarios, you should let subscribers know how long unsubscribe requests take to process and ensure this timeframe aligns with any applicable privacy regulations.
Have Questions About How to Implement a Preference Center?
Have questions about best practices and considerations when designing and implementing preference centers? Sign up for our newsletter! We send out a monthly recap of our latest Salesforce Marketing Cloud content, including articles on preference and consent management, actionable insight on Marketing Cloud optimization for enterprises, and more.