Another Dreamforce has come and gone. This year the sessions, learnings, and celebrations were better than ever. As a Salesforce Silver Partner, Dreamforce is a marquee event for our organization, and we pay close attention to the topics, themes, and products focused on at the conference.
This year, we decided to learn more about who spoke and what were the most popular topics and products spoken about at Dreamforce 2019. We believe the session topics at Dreamforce are a great indication of Salesforce's priorities and roadmap. 
How Salesforce Selects Dreamforce Topics 
Every year, Salesforce publishes posts by speaker track (Admin, Dev, and Architect), that highlight how many Dreamforce sessions were available per track and some helpful information about the submission process. These blogs are a great resource for organizations looking to speak at Dreamforce. For more information, check out the links below: 
Organizations That Spoke at Dreamforce 2019 
Here's a closer look at who spoke at Dreamforce. This year CloudKettle had the privilege of speaking six times. Four years ago, when we first started applying to speak, we were accepted once. As a specialized consultancy, we've leveraged the data from past Dreamforce sessions to help inform our submission strategy (and you can too).

The image above does not include Salesforce and Salesforce MVPs; who collectively spoke about 3,550+ times. The organization with the most speaking sessions spoke 71 times, and about 806 organizations spoke once. Something to keep in mind is, often organizations present on the same topic multiple times (the image above includes repeat sessions). 
Approximately 1,432 organizations spoke at Dreamforce this year. As the pie chart above shows, the bulk of organizations spoke ten or fewer times (around 97%).
Most Popular Themes 
There were 28 themes represented at Dreamforce this year. Below is a round-up of the top 10 most popular topics, with Digital Transformation taking first place.  

Cloud and Product Breakdown 
The list below shows which Clouds and Products were spoken about most often at Dreamforce 2019. There were 44 Clouds/Products represented (below are the top 20).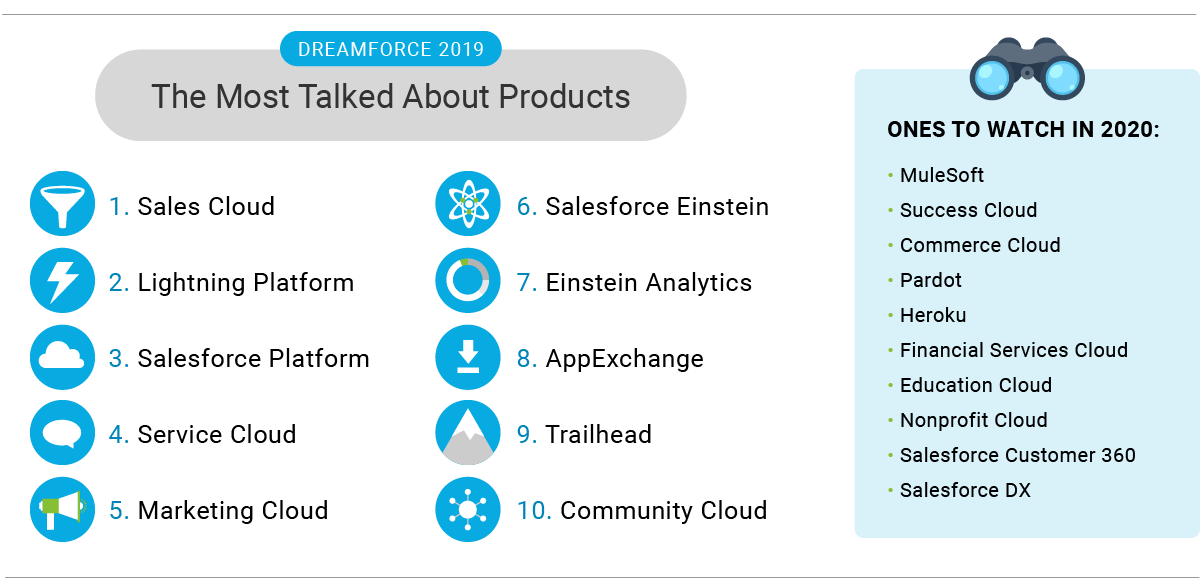 The "Ones to Watch" on the right-hand side of the image are in descending order of popularity (11 – 20, starting with MuleSoft).
Dreamforce Sessions by Role 
Each Dreamforce session is tagged with a job role(s) that it's relevant to (one session can be applicable to multiple roles). There were 23 role types; Salesforce Admin was the most common with 1,294 session tags. The average number of times a role was tagged was 320, and the range was 1,294 – 16 tags.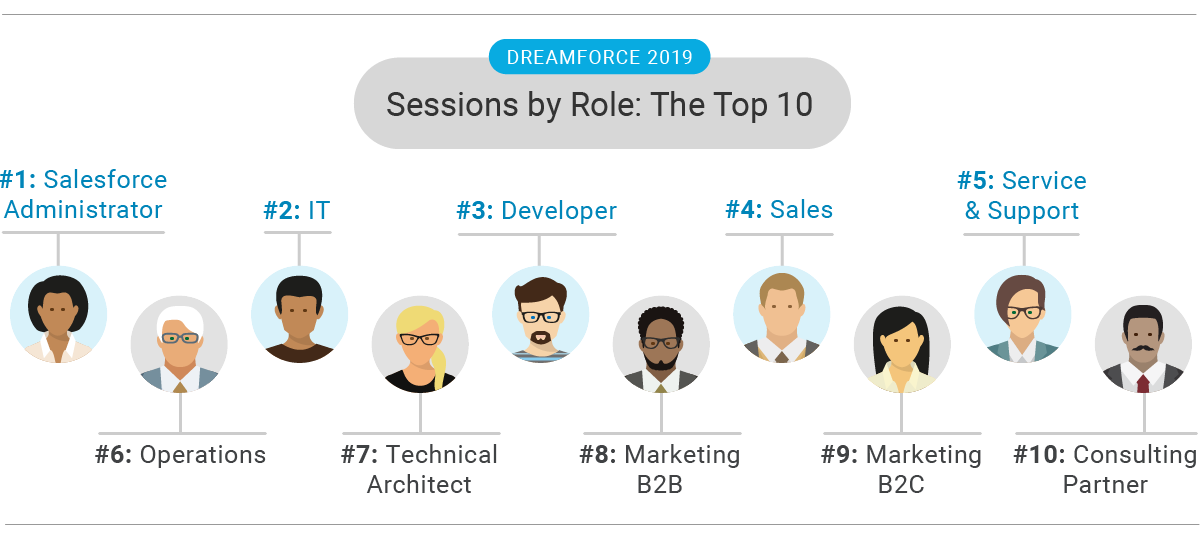 Wrap Up 
If you're a small to medium-sized company looking to speak at Dreamforce 2020, start by looking at the figures above. The information in this article, combined with the blogs that Salesforce publishes (linked above), can help inform your organization's submission strategy. 
If you're a Salesforce Partner, you may also leverage these insights to guide your blog and/or content strategy. The most popular themes, products, and roles of Dreamforce are a great indication of what's relevant to the Salesforce ecosystem in the coming year. 
Have questions about how we got these numbers or numbers we left out? Reach out today!