Within Salesforce Field Service, the proper configuration of territories is an essential component of the success of any organization's service delivery. Defining a territory in itself doesn't make an agent bound to that territory. However, the associated scheduling policy, work rules, and service objectives within will dictate the appointment booking process. The following are some of the work rules that determine how an agent interacts within a territory.
Overview
Match territory work rule
Extended Match work rule
Soft Boundary work rules
Maximum travel from home work rule
Territory Design is Iterative
Match territory work rule
A scheduling policy with the match territory work rule operates in such a way that only the resources assigned to that territory will be able to work the service appointments within that area. So if we have two territories defined for Brooklyn and Manhattan, and a scheduling policy with a match territory work rule, the agent in Brooklyn territory will only be assigned to work the appointments assigned to that territory – even if their home base is closer to the Manhattan border and an appointment comes close to where they live. Match territory will only consider resources that are either Primary or Relocation.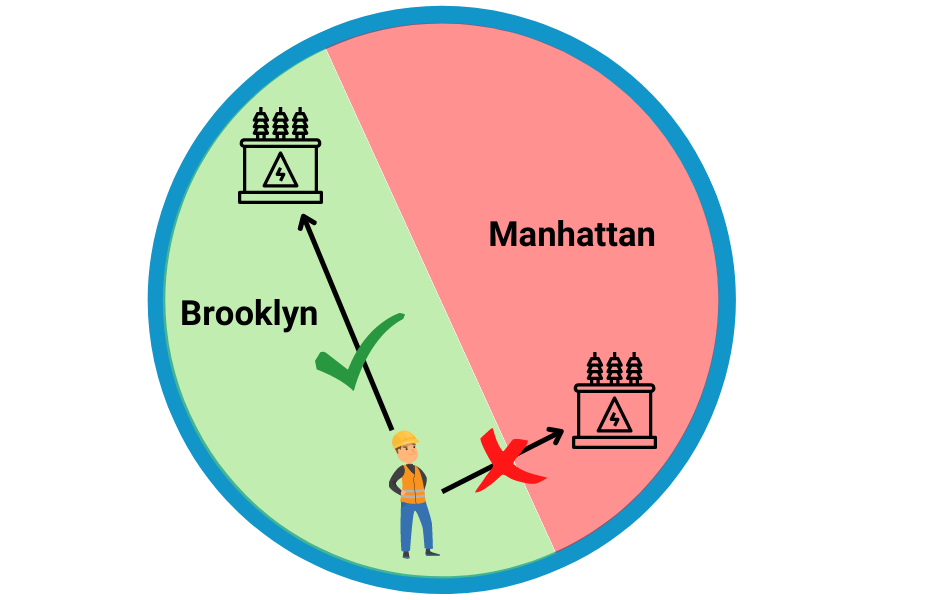 Extended Match work rule
The Extended Match work rule is an alternative to using postal codes as territories. The best practice is to use a custom object to define the postal codes (postal code coverage) where an agent is supposed to work, and then assign that as a related list to the service resource object. The service appointment will have a lookup field to a particular postal code and based on a match between that and the postal code coverage the service appointment gets assigned to a resource.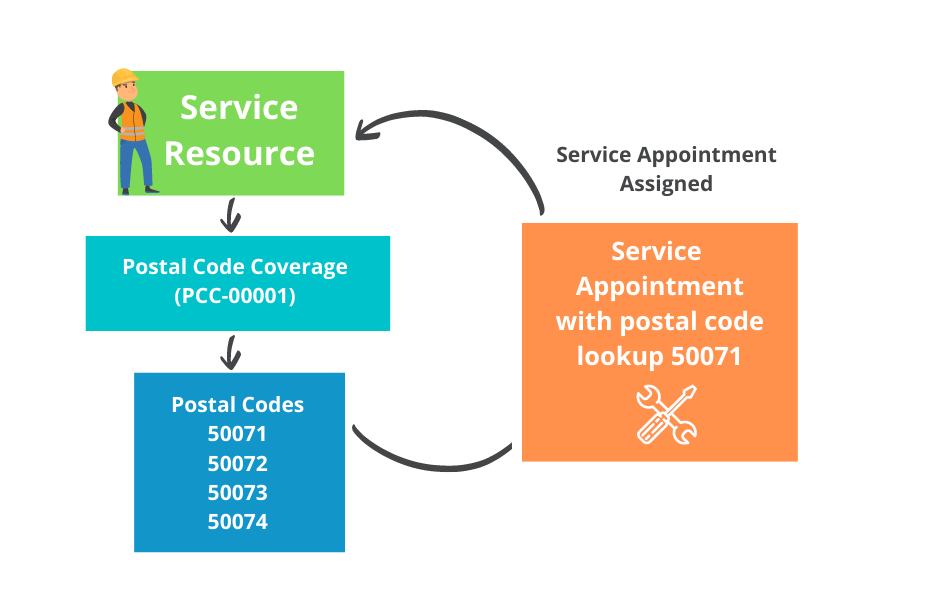 Match territories and extended match are siloed; they will not go beyond the coverage area assigned, even if a service appointment is nearby. 
Let's review an example where we use the extended match using postal codes. In this case, postal code(s) that the agent can cover will be under the service resources as a postal code coverage related list. This can then be used to match the postal code on the service appointment. The problem is, once you use match territories, the service appointments would only match to the agent that has those postal codes defined. 
Here, our Agent Marc Lightson has the following postal codes under him. So if a service appointment comes with the postal code of 50175 that will go to someone else and not him, even if it is geographically located close to Marc.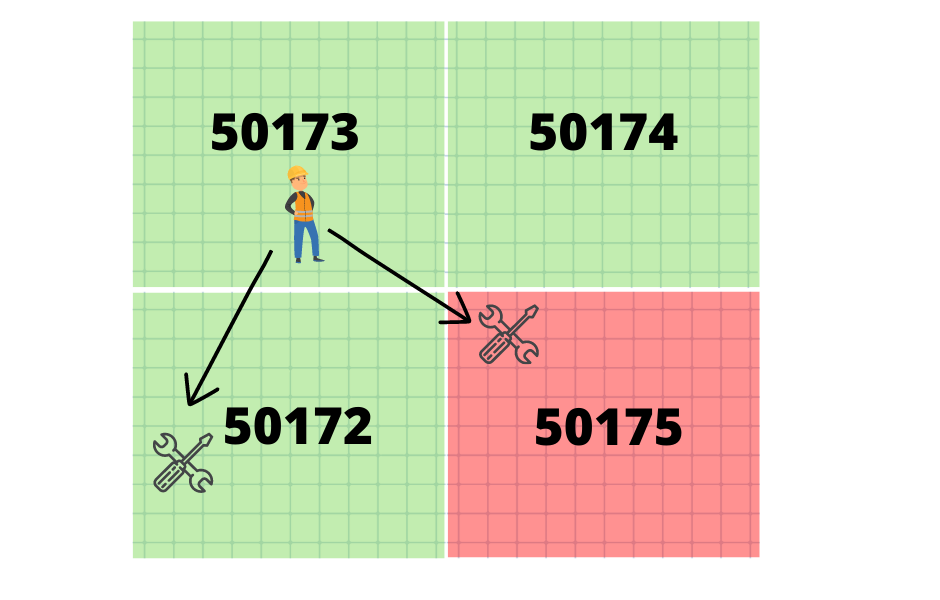 Soft Boundary work rules
Soft boundary work rules are those where an agent is not tied up to a particular territory or postal codes. If you do not use a match territory or extended match work rule or any other boolean or field matching rules that ties down an agent to a particular territory, then the agent is free to work in multiple territories. One important consideration for dispatchers in this scenario is to be mindful of the distances between appointments. If agents are sent to locations far from their home-base, this may lead to inefficiencies in scheduling (and dissatisfaction for the agents).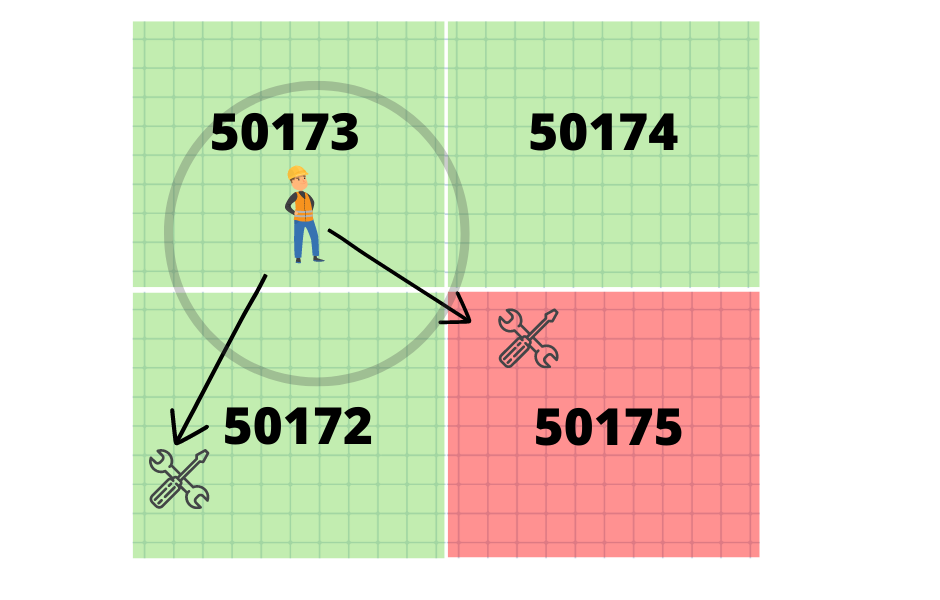 Maximum travel from home work rule
If you have a non-geographical territory or a territorial model where the reps can go anywhere as long as it is within the radius defined, then it makes sense to use a Maximum travel from home work rule which will enable agents to go anywhere within a specific radius. So if you have defined 50 miles as the radius, that agent can travel anywhere within that range of 50 miles. The caveat is that the agent has to be a primary or relocation service territory member, as the geocoding is important for both the service appointment and the service territory member. Geocoding should be defined on both Service Territory Member (STM) and the Service Appointment (SA) if this approach is to be successful.
Territory Design is Iterative
Designing a territory is not something you always get right the first time. It is very important to talk to the stakeholders with an open mind before designing your territories, and not be overly focused on bringing over the old way of doing things if the customer is coming from a legacy system. It is also important to set the right expectation and let the customer know that you may not get it absolutely right the first time and may need to make changes to the territory design along the way to optimize your scheduling.
Have questions about Territory Rules in Salesforce Field Service, or just want to chat? Get in touch!  Our team of experts is always happy to talk shop (or in this case, territories) and chat about Salesforce.