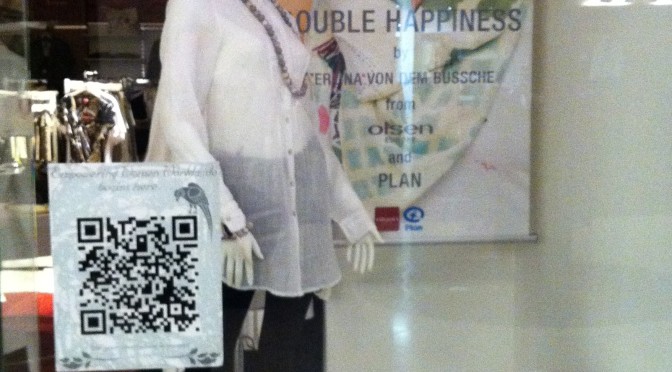 I love QR Codes and I talk about them a lot (in posts here, here and here).
That said, they are yesterday's technology. They are old news….well except in North America where they are just taking off.
North America's ability to invent, but not quickly adopt mobile technology aside, QR Codes serve one purpose for marketers. They act as a physical url. They link the real world (a store window, a poster, a billboard) with the digital world (a landing page, a YouTube video, a download, a movie ticket). They do it well. People recognize them as something that should be scanned. I would argue that is one of their greatest strengths. They are like any set of characters preceded by www. – there is no mistaking what should be done when you see one (assuming you know what a QR Code is).
Real world scanning and sensor technology are making QR Codes obsolete.
Here are two examples:
Sensors – Bump – bump two phones together and they can exchange information. Bump uses sensors and the cloud to replicate an ability that will be native to NFC enabled phones in the future. You can download Bump for iPhone or Android here. A shout out to the folks at Bump on having a great looking landing page.
Real World Scanning – Google Goggles – My wife and I were out for dinner and ordered a bottle of Carménère from Chile. We wanted to know more about the wine and region, so I opened up Google Search on my iPhone and held the phone in front of the label. Poof – Google scanned the label (not a barcode or QR code – just the image of the label) and brought us to the website for the winery. Even as someone who works in technology I find this amazing.
Why aren't we using this now.
Well there isn't any real reason not to use Google Goggles – its free, it works on both the Android and iPhone platforms and it will scan regular barcodes, QR Codes and real life items. Download and try it on a DVD case, company logo, text even landmarks.
Here is the issue – you don't know if a real world item is going to scan. A QR code looks very distinct. It says "Take out your phone and scan me – something special will happen if you do". It also says, "you are special – not everyone has a phone that can do this". As a Pepsi executive put it in this quote "It was not just a QR code, but it was also a call to action". You can read more about Pepsi's successful QR Code and SMS mobile campaign here.
So, while technologies like Google Goggles will provide consumers with more and more convenience in scanning everyday items (to learn more about a bottle of wine or a film), marketers are going to continue to utilize QR Codes. The QR Code itself is a very strong call to action, and that is something that marketers cannot resist.
Here's a quick example of a QR Code built into a video ad
[youtube=http://www.youtube.com/watch?v=fPjq8qdpgeI]
Looking for examples of QR Codes in marketing? This page has quite a few excellent examples. Want to learn more about QR Codes? Visit here.
Have thoughts on the future of QR Codes in marketing? Let me know if the comments section below or share this post with your comments via the buttons below.