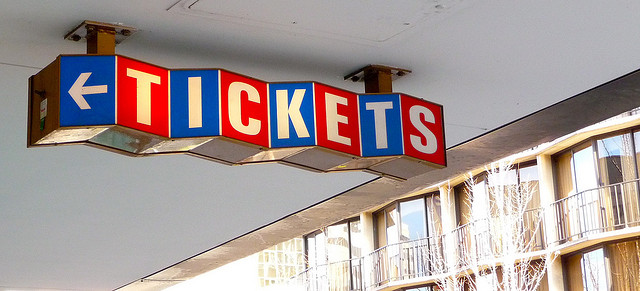 Having worked in a cinema chain's marketing department  for several years, friends and family often ask "why are movie tickets and concessions so expensive"?
There is no question that a night out with the family (or even a date) at a movie theater can be a pricey experience. However, I say that with a few caveats:
It depends on your frame of reference
Attending the movies is expensive in comparison to watching a film at home. It is not however expensive compared to other out-of-home entertainment experiences. Consider the cost of tickets to a live sporting event, a concert or even an evening at a restaurant. Likewise, concessions seem expensive because we can make popcorn at home – but food has a similar mark-up at pro sports arenas and ballparks. All these businesses have real estate, staff, utility and other costs they are trying to cover and they all do it the same way.
We believe we are entitled
For some reason, people feel entitled to attend movies. In the past, people have lobbied, sued and taken other actions to make movie tickets and concessions cheaper (I kid you not – Google it). Being able to attend a movie isn't a public right, nor is being able to snack when  you get there. No more so than being able to eat at a restaurant you like or go to a live hockey game should be. Hard to believe as this may be, theaters in Canada and the United States keep the ticket price artificially low (so more people can attend) and subsidize that via higher priced concessions (which are optional to purchase). If movie ticket prices were reflective of the true cost of running a movie theater, they would probably be $5.00 – $10.00 more per person.
We want everything and are willing to give up nothing
People often complain about the following:
Ads that play prior to the movies
Price of concessions and tickets
While at the same time demanding:
You see the problem here? Cinemas are unbelievably expensive to run. Here are a few costs that are often overlooked by people complaining about prices:
Real-estate/rent – Today's theater complexes are huge and you pay rent by the square foot. This can be especially expensive in shopping malls and downtown centers
Distribution Costs – Distributors (Disney, Warners, Fox, Universal etc) get most of the box office during the opening two weeks of a film. Once you back out tax and credit card transaction feeds – not much is left for the theater. Owners foot the bill for staffing packed houses while the box office take walks out the door to Hollywood
The equipment has a lot of maintenance and upkeep costs. Large buildings can see electric bills that over $10,000 (think how much it costs to air condition 20 or 30 auditoriums at once). Projector bulbs can cost thousands of dollars each as well. Compound that with speciality equipment like popcorn poppers, ticket machines and projectors that require constant upkeep and expensive repairs and your monthly costs start to climb pretty quickly.
Staffing costs are insane. Yes, each of those ushers doesn't make a lot per hour. But the number of staff it takes to run projectors, sell tickets, man concessions and keep the place tidy is extraordinary. It is really tough to manage your staff costs, because if you cut a few early during a slow show and then get swamped for a later show – lines get long and people miss the start of a movie. It isn't like a restaurant where they can just wait – you need to have them processed and in their seat. Problematic when our (not unfair) expectation is that we can show up 10 minutes before the film, buy a ticket, get hot food and be seated.
Basically the concessions are expensive and the ads are frequent to pay the bills. It might be tough to believe, but the ticket price is artificially low because of this, but not as low as it might be. The studios continuously put upward pressure on the ticket price (so they can break box office records) and films that are in Real D (or other 3D formats) require an additional kickback (IMAX, Real D – someone gets another piece of the pie). The Exhibition industry isn't exactly thriving. It has been going through rounds of consolidation for two decades as owners give up and sell. You can go months without a hit at the box office and that wipes out entire chains over time. Remember when you go, the theater is packed and you think "this place is a goldmine" – return back in on a week day in September or February and see how lonely things are looking.
What are your thoughts on movie ticket and concession prices?