BANT+C is a free App for Salesforce, from CloudKettle, that can be installed in minutes to create an easy-to-follow, better way of qualifying leads. SDRs know how to qualify raw leads, AEs can prioritize their efforts, and Sales leadership will be more confident in the Sales pipeline.
BANT is a Sales qualification process that ensures your Sales team – SDRs, AEs, and leadership – are all speaking the same language. It forces the team to evaluate prospects following a defined criteria: Budget, Authority, Need, Timing.
BANT+C is installed and added to the Lead page layout. Once installed, it acts as a guide for SDRs and/or AEs to qualify leads, based on: establishing a Budget, confirming the person they are talking to has the Authority to purchase, defining or creating a Need for your product or service, and identifying the planned Time to purchase. Due to popular demand, CloudKettle has added Competitor to the qualification process – the Sales team can add a competitor with the click of a button.  
Here's a snapshot of what the BANT+C App looks like on the Lead Page Layout within Salesforce: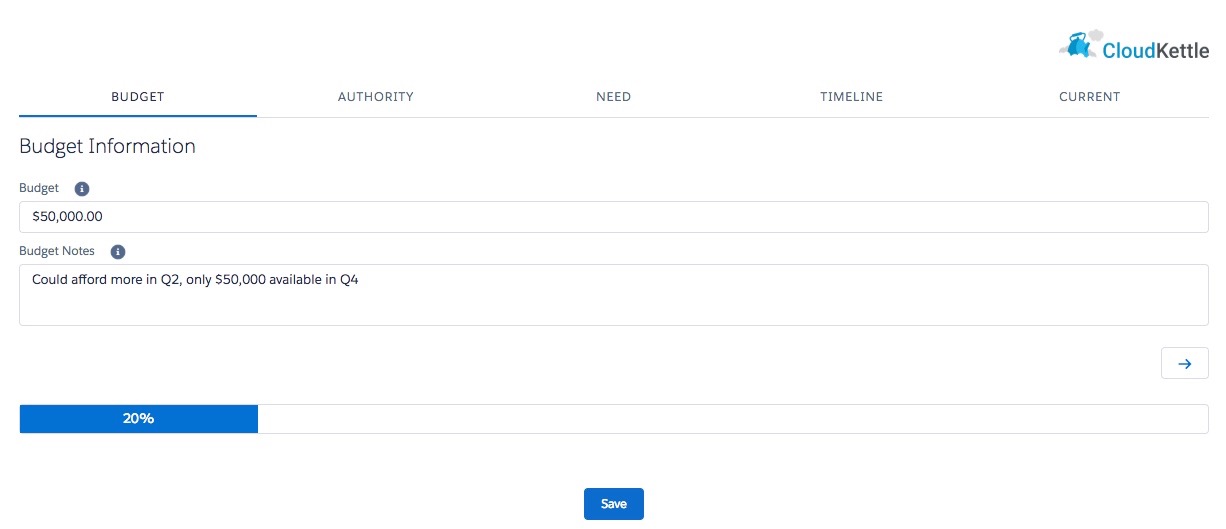 You can toggle between the Budget, Authority, Need, Timeline, and Current tabs: