Many enterprises leverage Salesforce for its native reports and dashboards to understand their data and performance. However, over the last few years, with "the volume of  customer data has been growing exponentially every day, exploring data manually has become a bigger challenge" (click here to read more). 
Tableau CRM (formerly Einstein Analytics) was created to solve this challenge. 
Tableau CRM is a powerful business intelligence platform that allows users to analyze, aggregate, and visualize both Salesforce and non-Salesforce data effectively. In this blog post, we tackle what your team needs to know to get started with Salesforce Tableau CRM. We cover how to set up your Tableau CRM instance and other configuration basics, including: 
How to assign Tableau CRM licenses and permission sets in Salesforce 

How to enable Tableau CRM in Salesforce

Five features to consider enabling when setting up an Tableau CRM instance 

The benefits of enabling DataSync in Tableau CRM

What Apps, Datasets, Lenses, and Dashboards are 
Before we dive in, let's look at the necessary planning your team should complete before enabling Tableau CRM. 
Planning for a Successful Tableau CRM Implementation 
Before your organization even enables Salesforce Tableau CRM, first consider: 
Who internally will own Tableau CRM (Tableau CRM Admins) 

Who will use the Dashboards/insights? (Tableau CRM Users)
Should a Salesforce Admin Own Tableau CRM?
Determining who will own Tableau CRM as a platform is crucial. Often organizations will assign this responsibility to one of their Salesforce Admins. However, an Analyst team member(s) who has experience turning stakeholders reporting needs into technical requirements is often better suited for this task. 
In an ideal state (and with proper design), Tableau CRM is a self serve analytics tool that empowers end-users to answer their questions. Selecting a team member who has the correct experience is key to building a roadmap to achieve this goal. 
Understanding Your Audience 
Tableau CRM facilitates enterprise-wide visibility into Salesforce data as well as other data sources, like ERPs or Date Warehouses. The app-based design of Tableau CRM makes it easy to ensure users get access to what they need for their specific role. 
Before enabling Tableau CRM, understand which departments or teams will be leveraging Tableau CRM and what insights they're looking for. 
How to Assign Tableau CRM Permission Sets in Salesforce 
The first step in setting up a Tableau CRM instance is to assign permission set licenses and permission sets to users in Salesforce. Tableau CRM comes with two premade permission sets: Einstein Analytics Admin and Einstein Analytics User. Your team can also create custom permission sets based on these to suit your organization's needs.
A permission set license gives a Salesforce user the ability to access features related to Tableau CRM. The Tableau CRM Permission Set defines which features in Tableau CRM that user can then access.
How to Enable Tableau CRM in Salesforce
In Salesforce, go to Setup and search for Analytics and click Getting started. From here, enable Tableau CRM for your Org.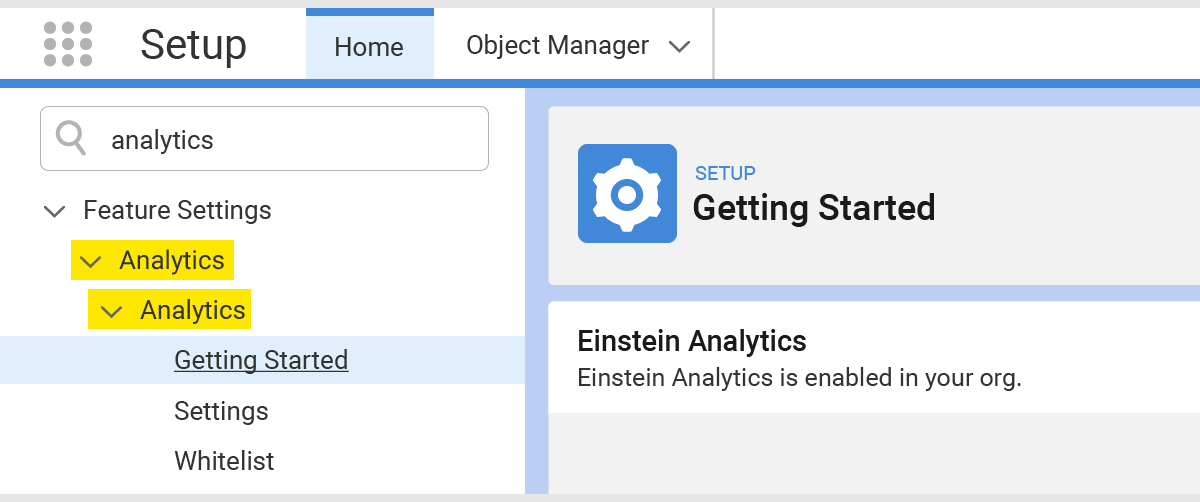 Next, click on Settings in the search pane. If you enabled Tableau CRM prior to the Winter '20 release, a very useful feature to turn on is Data Sync (the first checkbox). If your organization enabled Tableau CRM after the Winter '20 Salesforce release, then Data Sync will be automatically turned on.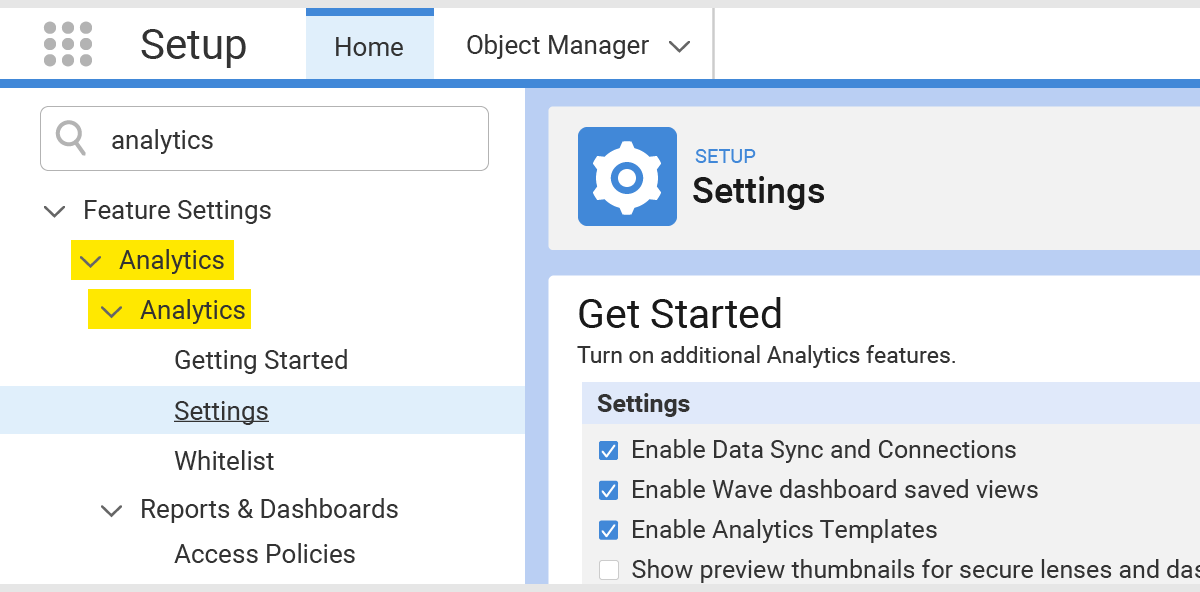 When Data Sync is enabled, it automatically syncs Salesforce data from connected objects on a separate schedule. This helps speed up many features in Tableau CRM. Under the Settings section of Setup, there are five useful features that we recommend your team considers enabling. Here is a breakdown of these five features (to do this, check the box beside the feature as seen in the image above): 
Analytics Templates:

This allows other users to build apps based on a templated version of existing apps. This provides massive time-savings when a new app needs to be created but also maintains design consistency or certain data points.

Email Subscriptions to Tableau CRM Dashboard Widgets

: This feature is currently in beta, but it allows users to subscribe to dashboard widgets and for changes in metrics to trigger an email notification.

Data Blending In Tableau CRM Explorer

: This is another beta feature, and it allows users to access the Data Blending feature in any Lens. This is important because it lets users combine data from multiple related datasets at time of analysis, without having to use a Recipe or Dataflow (we'll talk more about Recipes and Dataflows in our next Tableau CRM post). 

Tableau CRM Direct Data for External Data Sources:

This allows users to query external connected data sources directly from the source. This eliminates having to create a Recipe or Dataflow that pulls data from the source into a new Dataset.

Inherit Sharing from Salesforce

: This enables the option for created datasets to inherit sharing and security settings from the base Salesforce object. This feature is useful if you want to maintain the same data visibility for Tableau CRM users as in Salesforce.

 
How to Launch Analytics Studio 
Now that Tableau CRM has been enabled, to launch Analytics Studio type "Analytics Studio" into the search bar in the App Launcher and it will launch in a new window. Down the line, your organization can also embed Tableau CRM dashboards directly in a Salesforce page so that users can view their insights without having to leave the Salesforce environment they're used to.
Tableau CRM: Key features and Concepts
Now, let's review some of  Tableau CRM's key concepts to help your team get started with Tableau CRM. 
Analytics Apps
An app is a container that holds all assets related to a certain project, department, or team. Each app can contain Dashboards, Lenses, Datasets and Stories. 
Datasets
A dataset is a Tableau CRM version of a data table. It is denormalized, which helps with query speeds.
Lenses
A lens is a tool that users can use to explore datasets to answer single business questions or better understand what the data looks like within. Explorations that are done in lenses can be saved and even added to a Dashboard.
Dashboards
A Dashboard is a collection of dashboard widgets (aka lenses) that, when combined, tell a story that is relevant to the end user. Dashboards have many advanced features like Interactions, Faceting, Filtering, etc. that allow end users to harvest insights by drilling down, grouping, and pivoting data to their needs.
Trailhead: Getting Started with Tableau CRM
Now that you have a general understanding of apps, datasets, lenses, and dashboards, Trailhead is a great way to level up your understanding and skills. Check out the Salesforce Einstein Basics module for a free way to learn more about getting started with Tableau CRM.
Wrap Up  
We hope this post gave you actionable insights on how to set up and configure Tableau CRM as well as an overview of some of the platform's fundamental features. Stay tuned for our next Salesforce Tableau CRM post that will tackle Dataflows, Recipes, and how to prep your data for Tableau CRM.
If you have any questions about this blog or how to leverage Tableau CRM to solve enterprise business challenges, reach out today!