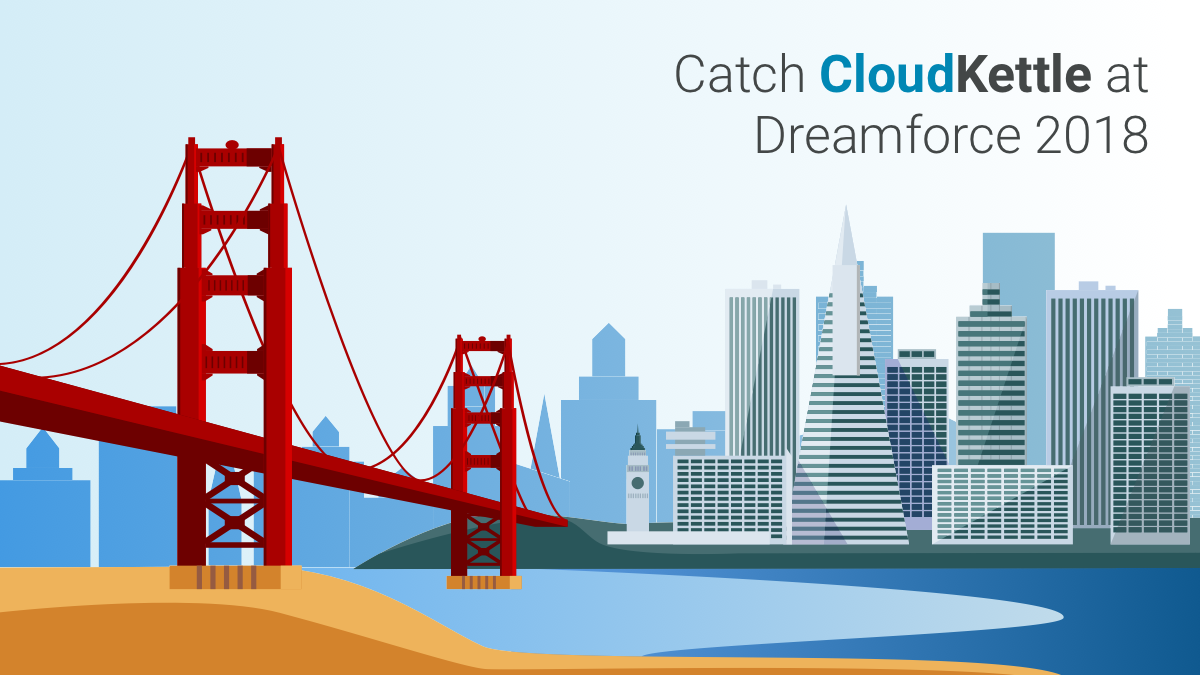 We're eight days away from Dreamforce 2018 and we've been busy preparing for this marquee event. This year, we're excited to be speaking at four Dreamforce sessions. Catch CloudKettle at one of our presentations:
Salesforce Admin Security Checklist:
Speaker: Prag RK, Salesforce Practice Lead
Connect: @prag_rk
Admins have a large role to play in Salesforce security. Regardless of business requirements, industry, or org size, this security checklist will help you learn how to protect your instance from attackers by configuring network-based security, track login history to protect your instance, why setting up two-factor authentication or Salesforce identity verification is crucial, and enable Single Sign-On for a secure and simple log in.
Click here to bookmark this session.
Partner Trailblazer Success with Trailhead
Speaker: Prag RK, Salesforce Practice Lead
Connect: @prag_rk
Salesforce has 3 releases per year (Spring, Summer, Winter). Consulting Partners constantly have to keep up with the newest and latest features of Salesforce. Luckily, there's Trailhead! Hear Salesforce Partners, MK Partners, and Cloud Kettle, share how they've used Trailhead to drive success in their organizations and the ecosystem. #DF18Partners
Click here to bookmark this session.
The Why of Having a Dedicated Integration User
Speaker: Greg Poirier, President
Connect: @gregpoirier
Organizations have long seen the benefits of expanding the value they get out of Salesforce by integrating their marketing automation, data enrichment, collaboration, and productivity tools with their instance. But, how do you ensure integrations are stable, auditable, and secure? By utilizing an "Integration User" license and profile. Join us to learn:
The hazards of using an active Salesforce user's license for integrations

How having an Integration User improves the security of your Salesforce instance

The steps to take when creating an Integration User Profile, assigning a License(s) to that profile and migrating your integrations safely

Why having an Integration User provides massive time and cost savings.
Click here to bookmark this session.
Circles of Success for Partners: Stand Out in the Consulting Partner Program
Speaker: Jon McGinley, Partner
Connect: @jonmcginley
Join Partner Program expert, Matt Morris, and Partners to discuss their strategy to build a first-class partnership with Salesforce. Partners will share their success, challenges and how they overcame, and much more!
1) Simplus will share how they were able to cut through the noise to stand out, gain recognition through specializations, and grow a company culture to encourage growth and customer success.
2) CloudKettle will discuss how they were able to grow their business by 200% by differentiating their practice through specializations and how it created a more scalable business.