Many Sales organizations worry or complain they don't have enough leads. In our experience, that's rarely the case. Once a fast-growing organization has hit its stride, the problem isn't the quantity of leads, but rather the processes to deal with those leads efficiently and effectively.  
The problem is the majority of new leads are not good enough to be considered qualified. Then, once they are qualified, most organizations don't have a good process for routing those leads appropriately.
It may seem counterintuitive, but growing organizations see higher ROI by focusing on Sales process instead of generating more leads.
How does Lead Routing Affect Revenue?
In the absence of effectively automating the lead routing process, salespeople spend significant time and energy manually re-assigning and routing leads. This costs your business in two ways:
1)It Speeds Up Your Lead to Response Time
"A recent study showed that 35–50% of sales go to the vendor that responds first."
The quality of a lead diminishes quickly over time. Adopting an effective automated lead routing process to handle inbound leads will save time, ensure the right people are working the leads, and significantly improve the speed to contact, which we know will improve Sales.
2)Increases Sales Productivity
Manually routing/assigning leads and removing duplicates are low-value activities. For example: finding duplicate leads, trying to match them up to the right accounts and re-route them to the proper sales people. Every hour a salesperson uses to complete these low-value tasks is an hour they aren't closing sales.
"The quality of a lead degrades over time…a good lead today can become a bad lead in three days" 
Whether you use Salesforce's native lead routing tool or another solution depends on how complex your lead routing scenarios are. Companies like LeanData help enable sophisticated lead routing for B2B SaaS organizations.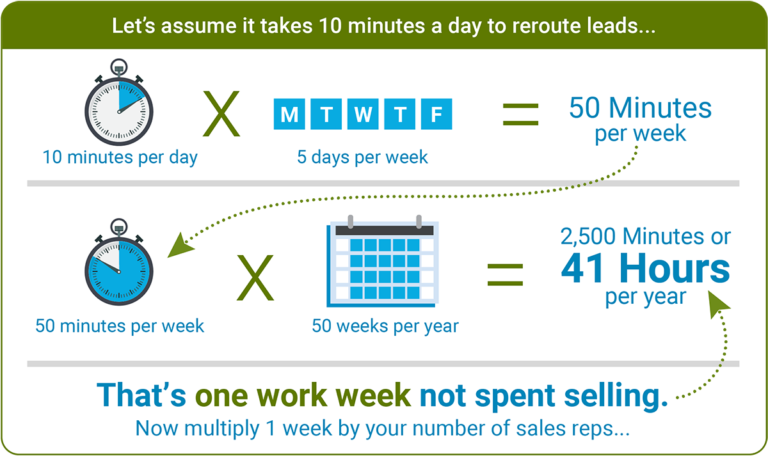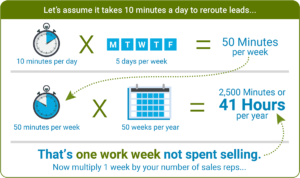 Are you Routing Leads Effectively?
To determine if your organization's automated lead routing process is effective, start by auditing your lead management efforts. Below are questions your organization can use to gauge effectiveness, create a baseline, and identify gaps.  
Do sales reps spend more than an hour re-assigning or re-routing leads on a weekly basis?
Organizations underestimate how much they spend on tasks like this. Start by having a report created in Salesforce that shows how many leads have changed owner in the last week. Talk to your sales reps to identify the two – three most common reasons leads are being reassigned. Modify your lead routing accordingly.
Do you route leads to inside sales reps for outbound qualification?
Sales Qualified Leads (SQLs) should be ready for a Sales rep to work. Sometimes this means getting a little more intelligence on the lead before passing it off to a sales rep. An SDR can reach out and qualify if they should be marked SQL and move through the funnel.
Marketing operations also affects leads management.  Below are questions your organization can use to determine where Marketing Operations improvements can be made.
Do Marketing and Sales work together?
Have you established agreed upon definitions for Marketing Qualified (MQL), and Sales Qualified (SQL)?
Start by defining each lead stage. Sales and Marketing should work together to create these definitions and agree on the final product.
Does Marketing sit in on sales calls?
The Aberdeen research group conducted a study on Sales and Marketing Alignment and found that "two-thirds of top performing sales organizations have a formal process which brings marketing staff into active prospect selling situations. This participation is influential in helping marketing understand what customers want and how they can better assist their sales colleagues."
Do Marketing and Sales review wins and losses?
The same report by Aberdeen Group states that high performing companies are "29% more likely for sales and marketing to jointly perform win/loss reviews." These joint meetings are critical for Marketing and Sales to understand how they can support each other better, what messaging resonates, what are common objections, etc.
Do you have SLAs in place?
Do you have a Service Level Agreement (SLA) between Marketing and Sales?
Tension between Marketing and Sales is a common obstacle for many fast-growing organizations. Setting expectations and establishing common language by jointly creating an SLA helps to decrease tension and achieve alignment. For example, a SLA between Marketing and Sales to establish the number of MQLs Marketing will provide Sales a week will decrease disputes.
Do you have a
SLA in place that outlines how quickly SDRs and salespeople have to follow up with leads?
This type of SLA, documents items like:
How long a

sales reps will take to accept leads before they are put back in a pool (24 hours is standard but depends on your organization).

Twenty minute lead touch SLA

Ninety percent of MQLs will be accepted by Sales

Marketing will generate 25% of all enterprise leads
Who Owns Lead Management?
Top performing companies are fifty percent more likely to have a dedicated person for lead management.  "This person is designated to communicate between sales and marketing for concerns regarding pipeline and lead data."
Wrap Up
Often, B2B SaaS organizations equate more revenue with more leads and focus on sexy lead generating activities. The reality is, most organizations are lead rich and process poor.  Developing a lead routing process isn't the innovative project that every employee wants to work on, but it will move the needle.
Focus on the process. Start with an audit and allocate a dedicated resource (a person or team) to own the lead management effort. Identify areas of weakness and focus on improving your processes with an emphasis on Sales and Marketing working together.