This blog post was born out of an off-hand tweet written by our President and Founder Greg Poirier that stirred up an interesting conversation. Greg has a decade of startup experience as a former manager at Radian6 (acquired by Salesforce) and as an executive at TitanFile and Livelenz. Greg is a sought-after speaker at Accelerators and Incubators and mentors several early-stage companies. Here are his further thoughts on the subject of Excel as a competitor to (SaaS) startups.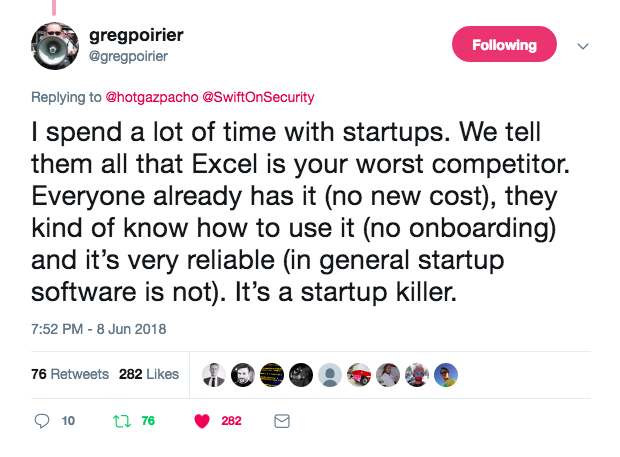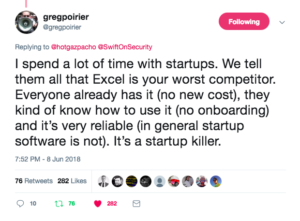 I spend a lot of time with startups. The most promising startups I see have founders that come from an old industry but are young and recognize some old paper and pen or Excel processes could be done better in a platform. These are the majority of great B2B ideas I run into at the incubators I teach in, events I attend, companies I meet with.
Swept (disclosure – I'm an Advisor) is a perfect example of a B2B SaaS platform transforming an old industry. The founders started Swept as a residential and commercial cleaning company. Having experienced the challenges and inefficiencies in the industry first hand, they set out to design a SaaS platform to help janitorial companies improve their business. One of the things they knew from their own experience in the industry – almost everything was done with pen or paper or in Excel.
During my time mentoring startups, I often end up discussing why "Excel is your worst competitor." Everyone already has it (no new cost), they kind of know how to use it (no onboarding) and it's very reliable (in general startup software is not). It's a startup killer.
To go back to my Swept example, as it turns out, most janitorial companies create the quotes and bids for their contracts in Excel and Word. In some cases we are talking about massive bids worth tens, sometimes hundreds of thousands of dollars that get delivered looking like a high school project.
The janitorial industry is also an incredibly resource intensive and margin-thin business. Think about all those hundreds of cleaner hours being worked across dozens of properties, often at night. This is really difficult to track accurately and again, companies are using Excel to track hours, cleaners, margin and profit. It is hard and time-consuming, but as far as many business owners are concerned – it is reliable and gets the job done.
It makes sense to use a tool like Swept to help improve your business and there are massive cost and time savings to putting an app like Swept on every cleaner's phone. Employees can easily log their hours, translate instructions on the fly to their native language, GPS shows management that everyone is at the right building they are supposed to clean and supplies can be ordered as a cleaner see they are low. Plus the management can automatically see all their KPI's tracked on the fly. No manual reentry.
The testimonials for Swept speak for themselves – there's no doubt there's value in the product. Should be a no-brainer, and yet the Swept team still often finds themselves selling against some old Excel spreadsheets.
People Hate Learning New Technology
Here's the challenge that all B2B SaaS companies face, regardless of their product market fit. Most people really hate learning how to use technology at work.
No matter how much better your solution is, it means staff has to learn how to use something new. Something that at first is going to be slower and more work than the thing they already use today. This is 100% true – don't lie to them about this. In general people really, really hate new software platforms at work. Outside of the tech bubble – this is almost a universal and in my experience founders consistently misjudge the depth and breadth of this hate.
Excel is a substantial competitor because it just works
That's a tough hurdle, getting people to want to change how they do their job and move away from something as trusted and reliable as Excel. Even when they know it's a pain or believes there could be a better way – "Excel just works".
I see this as an advisor to SaaS companies in the cleaning, restaurant, and real estate industries. All these companies have great ideas, amazing founders, excellent unit economics and yet Excel is the dominant competitor in each.
Wrap Up
Honestly, I have no magic advice here – no silver bullet solution. Competing against Excel is hard work. However, here's what you should take away from this post:
"Don't underestimate how difficult it is to dislodge a competitor."
Even if your product or solution is better.
Be prepared; have a really good response(s) to "Yeah, but we use Excel for that". Invest in sales enablement collateral like objection handling sheets. Track deals lost to Excel. Have battle cards for it and train your team to sell against it. In short, treat Excel like the legitimate competitor that it is.
Let me know what you think of this post in the comments below or reach out today.