Today, organizations have more data about their customers than ever before. The RFM model is a simple but powerful tool to sift through consumer data and categorize customers based on measured behavior.
Salesforce Marketing Cloud (MC) is a robust tool that allows your team to engage your customers with relevant and timely email content. Together, organizations can use the RFM model and Salesforce Marketing Cloud to maximize the lifetime value of each customer.
In this post, we talk about the RFM model (Recency, Frequency, and Monetary) and the importance of RFM scores. We also discuss how organizations can leverage RFM scores to:
Drive their customer segmentation strategy in MC

T

rigger automated campaigns in MC

Build smarter remarketing campaigns in MC
What is the RFM Model?
There are many models that can be used to segment customer data. If your organization is not currently using a framework to drive segmentation, we recommend starting with the RFM model because it's simple and effective.
While RFM analysis can be helpful for B2B companies, it is typically most useful in B2C businesses where customers make multiple purchases over time. The RFM model was created in the mid-90s to help catalog marketers target specific customer segments within their databases that had the greatest likelihood to purchase based on previous behavior. The goal was to save on printing and shipping costs. Today, the RFM model is used by digital marketers to send relevant marketing messages, keep their customers engaged, and maximize the lifetime value of each customer.
What are RFM Scores?
RFM models can be customized based on your organization. However, in most RFM models, each individual customer is given a score from 1- 5 for each RFM component, with 1 being the lowest and 5 being the highest score. We then combine those scores (not the sum) to create at a 3-digit RFM score.
RFM scores range from 111 to 555. An important takeaway from this post is there are no bad RFM scores. Each RFM score should inform if and what messaging to surface that customer. An RFM model that scores customer from 1 to 5 setups a quintile so,  when a customer scores a 1, that means they fall into the bottom 20% of all customers. Similarly, if a customer scores a 5, it means they fall into the top 20% of all customers. Note: this is not based on an absolute value but relative (compared to all other customers).
Recency –

How long has it been since the customer's last purchase?

Frequency

– How often has the customer made a purchase over a defined period of time

Monetary

– How much money did the customer spend with us over a defined period of time?
Together, these three individual scores give us an accurate snapshot of each individual customer and help us determine what kind of offer, if any, we should target them with. Let's look at a retail example to understand how RFM scores work in practice. Greg and Jon are two customers of an apparel store called Clothes.co. Below are their overall RFM scores:


As we can see in this example, Greg has a high recency score, but low frequency and monetary scores. It's likely that he has just made his first purchase at Clothes.co, so they'll want to enter him into a thoughtfully designed Welcome Journey so that they can make sure he's getting the most out of his purchase, all of his questions are answered, and he learns a bit more about Clothes.co in the process.
Clothes.co can also try to learn more about him during these interactions with progressive profiling in order to determine how we can add more value post-purchase.
Jon, on the other hand, has high frequency and monetary scores, but a low recency score. He's spent a lot of money at Clothes.co and bought frequently but it's been a while since he has made a purchase. They may want to take a look at his purchase history and any other known information about him to send him a relevant and valuable offer to get him re-engaged.
RFM in Practice: Retail Example
If you offer multiple types of products, a customer may have an overall RFM score as well as multiple product or category specific RFM scores. For example, Lisa has purchased hats, sneakers, and clothing from Clothes.co, so her individual product scores are:


Product/category scores allow your team to look beyond how often a customer shops with you and how valuable they are, but also see any patterns related to the types of products they're buying. This provides your team with valuable insights that can help them create very personalized messaging.
For example, if we identify a lapsed customer then we may want to enroll them in a Win-back campaign. Using their product RFM score, it is easy to determine whether that customer is interested in sunglasses or if we should send them an offer for clothing discounts.
RFM Scores to Inform Customer Segments
Once you have set up your RFM model and have assigned customers RFM scores, your team can use those RFM scores to divide customers into customer segments. This enables a powerful framework to identify segments of customers and make informed decisions around how to deliver a better experience.
Here are some standard customer segments:  
Fresh leads – RFM score = 511

New and promising customers – RFM Score = 514 

Loyal customers – RFM score = 453  (the frequency is what makes them loyal)

At risk customers – RFM score = 324

Cannot lose – RFM score = 155, 245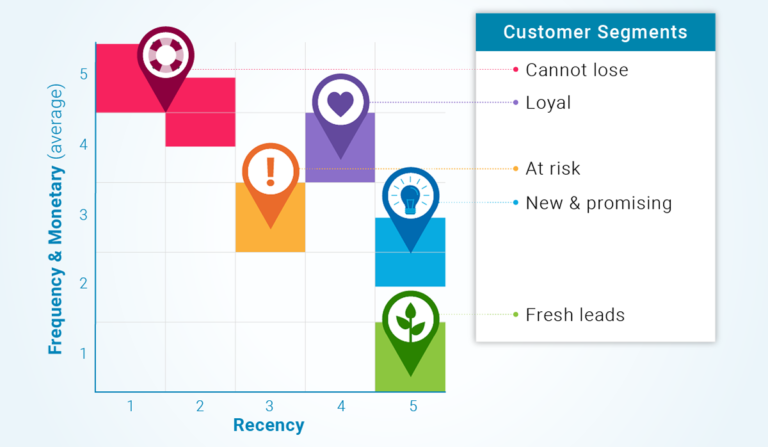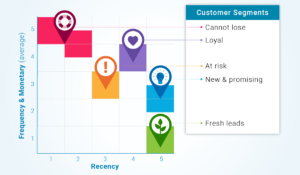 Once customers are broken into segments, you can leverage these segments to power your email marketing campaign strategies.
Don't Just Focus on High Scores
High RFM scores will show you who your most promising customers are, which enables your team to build experiences that keep them engaged. However, lower scores can help you identify:
New customers that need to be nurtured.

Previously loyal customers that have since found a replacement for your products or services and should be entered into a win-back campaign.

Customers who are buying low-value items on a regular basis and are prime candidates to be moved up the chain to higher value items.

Lost customers who are not worth marketing to/wasting marketing resources on.
How to Use RFM Scores for Smarter Remarketing
RFM scores can also be useful for powering paid advertising campaigns to deliver integrated cross-channel customer experiences. Your team can trigger remarketing campaigns automatically based on RFM scores using Salesforce MC's Ad Studio and Journey Builder. If you're just getting started with remarketing using MC, you can always export MC data to create ad audiences in your tool of choice, like Google Ads. Once you're leveraging RFM scores for smarter remarketing, the next step is to leverage Einstein Engagement Scores (bit.ly/sfeinstein).
Einstein Engagement Scores in Salesforce is another great tool that can be combined with RFM scores to help make better marketing decisions. Einstein Engagement scores indicate how likely an individual customer is to open and engage with your
email, based on their history. Your team can layer these scores on top of your RFM segments to determine how to best engage with each customer.
For example, if we know a user always engages with our emails, we may not want to waste our ad budget on them and engage with them only via email. Or, if a customer isn't likely to open our emails, it might make more sense to target them with social ads.
Trigger Automated Campaigns Based on RFM
With Journey Builder and Ad Studio, you can also leverage your RFM model to trigger automated campaigns at every stage of the customer lifecycle across all channels. Think about how your scoring model can help you automatically identify users that should be entered into a Welcome series, Win-back, or Loyalty campaign. Note: be sure to consider if and how you'll exclude subscribers from existing in multiple campaigns at the same time.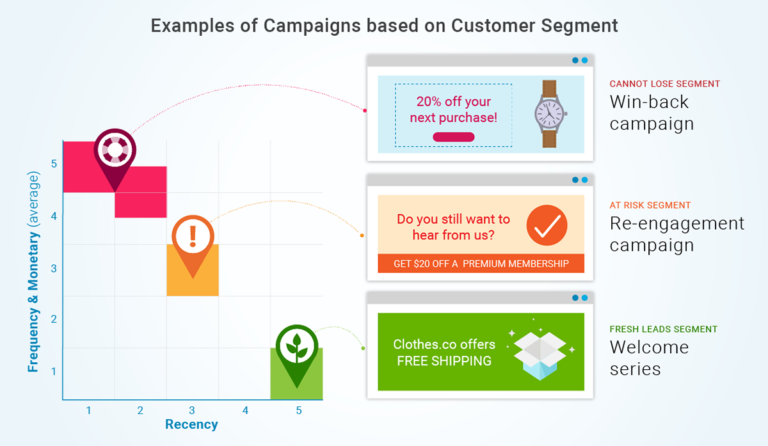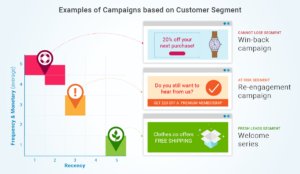 Wrap Up
Hopefully, this article provided you with actionable insights and answers to some of your questions. If you enjoyed this post, you may want to check out our follow-up post: How to Build an RFM Model for Customer Segmentation. In it, we tackle everything your team needs to know to implement an RFM model, including:
How to wrangle existing customer and transaction data to build your RFM model
The basic SQL skills necessary for this undertaking and how your team can learn them with free and online resources
How to calculate RFM scores
How to sync Google BigQuery with your Salesforce Marketing Cloud instance
Have questions about how to leverage an RFM model for your Marketing Cloud strategy? Sign up for our newsletter! We send out a monthly recap of our latest Salesforce Marketing Cloud content, including articles on security best practices, actionable insight on Marketing Cloud optimization for enterprises, and more.